Frozen Tianchi Lake a stunning winter sight
2019-12-16 China Daily Editor:Mo Hong'e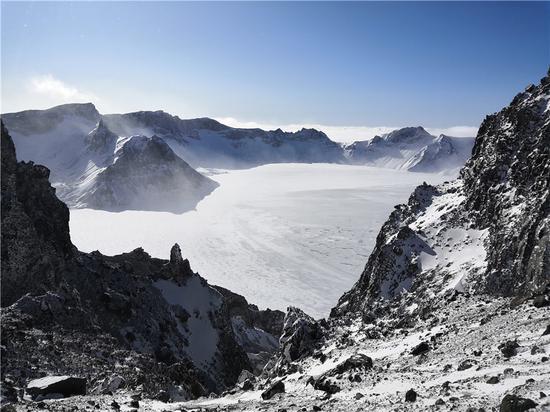 Tianchi Lake at Changbai Mountain Nature Reserve in Yanbian county, Northeast China's Jilin province, is covered in ice after a continuous temperature decline. (Photo by Han Jinxiang/for chinadaily.com.cn)
Tianchi Lake has become covered in ice after a continuous temperature decline at Changbai Mountain Nature Reserve in Yanbian county, Northeast China's Jilin province.
The mirrorlike frozen lake on the top of the mountain reflects the blue sky and white clouds, providing tourists unique scenery in the winter.
Changbai Mountain, which borders the Democratic People's Republic of Korea, remains frozen for a large part of the year.
The reserve has long been a major summer and winter tourist destination.