China's railway history unfolds through 4,000 train tickets
2019-10-14 15:10:08 Xinhua Gu Liping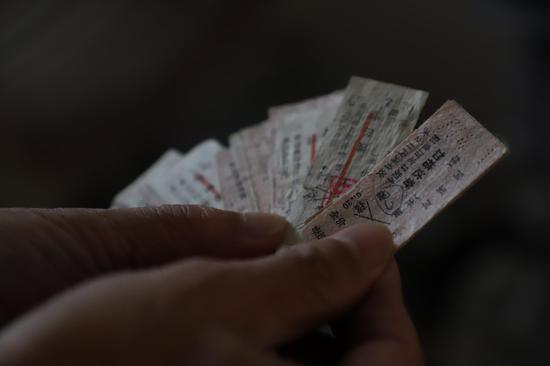 Zhao Yujun displays the old train tickets he has collected, Sept. 24, 2019. (Xinhua/Sun Xiaoyu)
A panorama of China's railway history unfolds when Zhao Yujun, 68, opens his collection book, which contains more than 4,000 train tickets collected over the past 35 years.
Zhao was an employee of the China Railway Harbin Group Co., Ltd and retired in 2012. In 1984, China issued its first colorful platform tickets with different landmarks, railway stations and places of interest printed on them, which aroused his interest in collecting tickets.
There are many rare tickets in his albums, including an international train ticket bound from China to Russia, which was purchased in 1991 and priced at 16 yuan (about 2.25 U.S. dollars), with both Chinese and Russian on it.
It is a precious ticket because very few Chinese traveled abroad by train at that time, said Zhao, who tried many times to persuade his friend to concede the ticket to him.
Zhao even has a bedding ticket, which is one of his greatest treasures. The special ticket tells of a story which is unknown to most people -- back in the 1960s, bedding and linens were not provided to sleeper ticket holders free of charge. Passengers had to rent them with a bedding ticket.
Among all his collections, the oldest train tickets date back to the 1950s when China was still using its first generation train tickets -- hardboard tickets, used from the 1940s till the 1990s.
So far, China's train tickets have gone through four generations of upgrading and transformation. The second generation was launched in 1997, a soft paper ticket sold and printed with a computer system. Compared with the hardboard which required the ticket seller to print all information manually, the second generation sold much faster, cutting the wait time from minutes to seconds.
The third generation blue magnetic train ticket, first introduced in 2007, can go through the automatic ticket checks.