Sabotaging rail networks in Hong Kong unacceptable: transport secretary
2019-09-02 15:05:31 Xinhua Mo Hong'e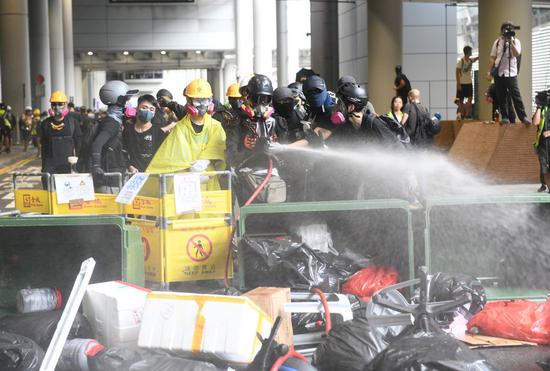 Radical protesters build barricades at Hong Kong International Airport in south China's Hong Kong, Sept. 1, 2019. (Xinhua)
The transport Secretary of the Hong Kong Special Administrative Region (HKSAR) government on Monday condemned rioters for vandalizing dozens of railway stations over the weekend, saying such acts are "absolutely unacceptable."
Frank Chan, the secretary for Transport and Housing of the HKSAR government, told a press conference that he believes everyone of the society can easily see from media reports how severely the railway networks had been damaged over the weekend.
After the massive escalating violence in Hong Kong on Saturday, the black-clad radical protesters who wore masks and helmets defied a court injunction order and brought chaos and vandalism to Hong Kong International Airport again on Sunday, blocking access routes and forcing the shutdown of the Tung Chung line and the Disneyland Resort Line of the Mass Transit Railway (MTR).
During their rampage, a large group of radical protesters threw iron sticks, bricks and stones into the rails on Sunday, while rioters smashed MTR station facilities and intruded into the tracks.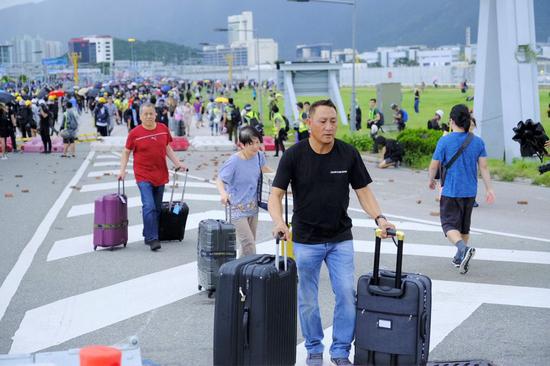 Passengers stride over barriers and walk to airport as radical protesters block the roads outside the Hong Kong International Airport in south China's Hong Kong, Sept. 1, 2019. (Xinhua)
The rampage caused airlines to delay and cancel flights, with travellers both going to and leaving the airport stranded. Some desperate travellers arriving in Hong Kong were forced to walk on the main road, lugging their suitcases all the way to Tung Chung and then onto the North Lantau Highway to Sunny Bay.
After days of disturbance and violence by unlawful assemblies at the airport, the airport authority obtained an interim injunction from the court on Aug. 13 to restrain persons from unlawfully and willfully obstructing or interfering with the proper use of the airport.
The court extended the interim injunction at the airport on Aug. 23 and announced that the order would maintain the status quo until trial or further order of the court.
MTR service returned to normal on Monday morning after overnight efforts to repair the sabotaged facilities.