Japanese zoo celebrates popular baby panda's half-year-old birthday
2019-02-15 09:10:33 Xinhua Gu Liping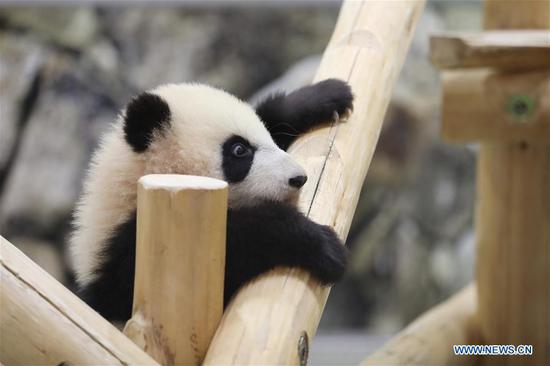 Giant panda Saihin plays on the slide, her half-year-old gift at the Adventure World in Shirahama, Wakayama, Japan, Feb. 14, 2019. Born on August 14, 2018, Saihin is 90 centimeters in length and weighs 9.86 kilograms now. (Xinhua/Du Xiaoyi)
Female giant panda cub Saihin, born at a Shirahama zoo in Japan's Wakayama Prefecture, celebrated her half-year-old birthday on Thursday, attracting a lot of tourists and panda lovers.
Saihin was born on Aug. 14, 2018 and weighed only 75 grams at birth, according to local media. She has since grown up healthily by drinking breast milk and now weighs 9.86 kg.
The Adventure World zoo has prepared a wooden slide and other birthday gifts for the cub, who started to play with her lovely posture, drawing gasps of admiration from visitors.
Eimei, the 26-year-old papa panda of Saihin, also received a special Valentine's Day gift on Thursday - a cushion full of fresh bamboo leaves and heart-shaped ice cubes. The cushion was painted with hearts, bamboo and pandas, and there's a sentence in Japanese on it that says "We love Eimei."
Some visitors told the media that the pandas are at their cutest stage when they are about half a year old, and they hope Saihin will grow up healthily.
The papa panda was flown to the Japanese zoo from China's southwestern Sichuan Province in 1994 when he was two years old, and has since been adored by the Japanese people.
When Saihin was born, the zoo held a vote of naming for the beloved cub and received tens of thousands of name proposals and votes from all over Japan. The name "Saihin," which means "making life colorful" in Japanese, was picked with 35,858 votes. Enditem