Basic structure for Intl Lunar Research Station to be built by 2028: China lunar exploration chief designer
2022-11-22 Global Times Editor:Li Yan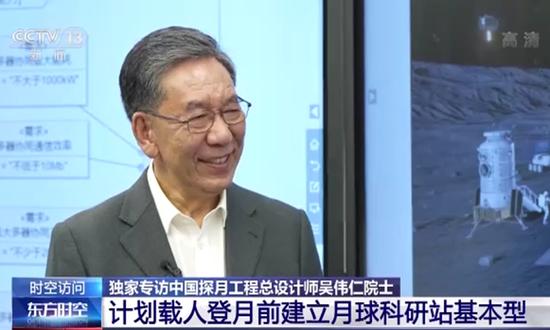 Wu Weiren, the chief designer of China's lunar exploration program, has an interview with China Central Television (CCTV) on November 21, 2022. (Photo/snapshot from CCTV)
The basic structure for International Lunar Research Station (ILRS) will be built by around 2028 meaning it will be possible for Chinese astronauts to land on the moon within ten years, according to China's lunar exploration chief designer.
The ILRS will be expanded from a basic structure which China's Phase-4 lunar probe mission aimed to build using lunar probes of Chang'e-6, -7, and -8, Wu Weiren, the chief designer of China's lunar exploration program, said in an interview with China Central Television (CCTV).
According to Wu, the basic structure, which will be built by around 2028, will consist of lunar landers, rovers and leapers, as well as an energy system, communication infrastructure and human life support system.
"We are currently developing new energy system where nuclear energy can provide high-power and long-time supply. And the communication facility can achieve communication between the Moon and the Earth, or with other planets such as the Mars," Wu explained, saying it would be possible that Chinese astronauts could land on the Moon within the next 10 years.
Wu said China is the first country to propose the construction of a research station in the Moon's South Pole region as the region may have polar days which can last for 180 consecutive days, keeping the temperature in a range from minus 100 degrees Celsius to minus 80 degrees Celsius, under which both astronauts and machines can stay and work for an extended period.
As part of China's deep space exploration, China launched its lunar probe mission in 2004 and realized lunar orbit, landing and sampling. "We will implement Phase-4 lunar exploration mission and may have Phase-5 and Phase-6 in the future," Wu said.