Chinese scientific research vessel completes deep-sea trial deployment
2022-10-27 Global Times Editor:Li Yan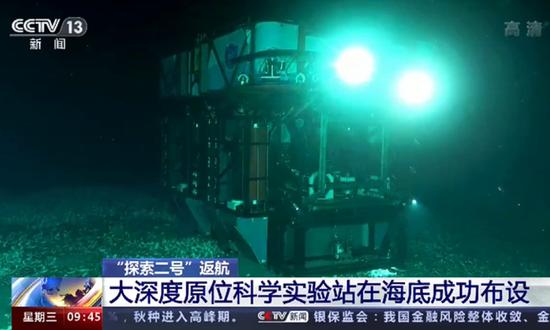 Chinese scientific research vessel Exploration-2 (also known as Tansuo-2) has completed its trial deployment of a deep-sea scientific experiment station and returned to the coastal city of Sanya in South China's Hainan Province on Tuesday, carrying the deep-sea manned submersible "Deep-Sea Warrior."
The mission was mainly designed to test the underwater performance of equipment developed for the Chinese Academy of Sciences' (CAS) pilot deep-sea scientific research program and core technologies of other national key research and development projects, according to a report by CCTV.
Various types of equipment including a submarine base station, an in-situ laboratory and a glider were involved in the test, according to the report.
Based on domestic technology jointly developed by the CAS Institute of Deep-Sea Science and Engineering (IDSSE) and the Qingdao Institute of Bioenergy and Bioprocess Technology, the test has for the first time achieved the integration of megawatt-hour (1000kWh) solid-state lithium-metal batteries and their application at a water depth of over 1,000 meters to verify the reliability of the system.
One megawatt-hour is equivalent to 1,000 degrees of battery capacity, which is the maximum energy capacity of the current deep-sea equipment. This marks a breakthrough for energy system integration and management technology, offering high security and stability, experts explained.
Moreover, the mission also included the underwater joint operation of the base station, the in-situ laboratory and the Deep-Sea Warrior.
Chen Jun, an associate researcher at the IDSSE, said that with the large power capacity of the base station, the sea trial also verified the base station's submarine navigation capability and its autonomous movement function, which enables precise deployment of the base station on the seabed and operations at multiple sites.
The base station can support the connection of platforms such as the in-situ laboratory and supply power to them, while the platforms are connected to each other for long-term collaborative detection and more flexible operating modes, he added.
During the 11-day trial, the Deep-Sea Warrior manned submersible completed its 500th dive to a depth of 1,450 meters and returned to the Exploration-2 vessel after nine hours underwater.
Since 2017, the average underwater time of the Deep-Sea Warrior for all 500 dives was 8 hours and 17 minutes, with the longest time being 12 hours and 53 minutes. The average depth of the submersible was 1,957 meters, and the maximum depth was 4,546 meters.
More than 227 personnel from 61 institutions at home and abroad, including scientific research institutes, universities and enterprises, have participated in the operation during the past five years, carrying out deep-sea scientific investigation and research, underwater search, and emergency rescue.