China Space Station: Experimental cabinets work well
2022-08-29 CGTN Editor:Mo Hong'e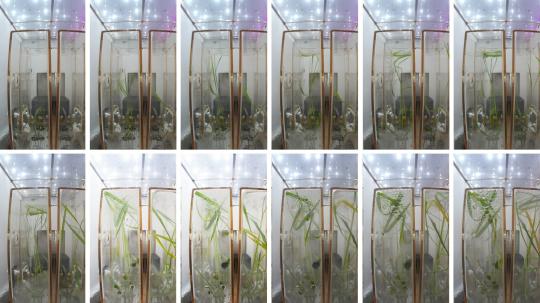 Rice grows in a microgravity environment aboard China's Space Station.(Photo/CAS)
The Wentian space application system of China's Space Station has been working well since the lab was launched and started operation on July 24, the Chinese Academy of Sciences (CAS) said on Monday.
Zhao Liping, chief designer of the Wentian lab module space application system, said the experimental cabinets or "science experiment racks," including those for change of gravity, low-temperature storage and biotechnology, are in good condition after Chinese astronauts unlocked and assembled them on August 8 and 12, respectively.
She also shared about arabidopsis and rice that have been growing at the space station since July 29, adding that the experiments are progressing smoothly and will continue as scheduled.
Zheng Huiqiong, a researcher at the CAS Center for Excellence in Molecular Plant Sciences, said arabidopsis has produced four leaves and that one of the rice samples has grown to about 30 centimeters tall.
Zheng said the experiments will focus on the entire process of growing the plants, exploring how to use a microgravity environment to control flowering and increase production efficiency.