New cargo spacecraft being built
2022-05-19 China Daily Editor:Li Yan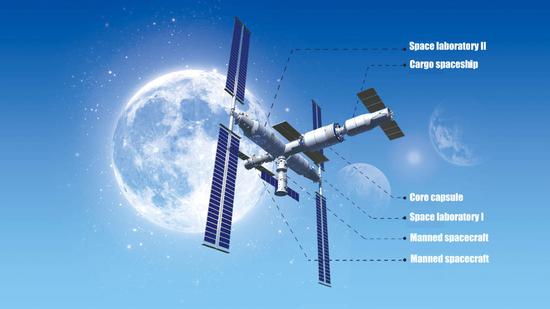 An illustration of China's space station. (Photo provided to chinadaily.com.cn)
Tianzhou 6 to feature upgrades including greater capacity, longer operation ability
China has begun to assemble a new cargo spacecraft that will be tasked with servicing the Tiangong space station, according to a key figure in the space station program.
Bai Mingsheng, a researcher at the China Academy of Space Technology and chief designer of the Tianzhou-series cargo spacecraft, told China Central Television on Sunday that the design work on the Tianzhou 6 has finished and engineers have begun to assemble the robotic craft.
"The Tianzhou 3, 4 and 5 were built in accordance with the previous technical specifications while the new craft, from Tianzhou 6 to 11, will be based on a set of upgraded specifications," he told the State broadcaster.
Bai said that compared with its predecessors, the Tianzhou 6 will have a redesigned cargo section and its airtight cabin will have greater carrying capacity.
The improvements will enable a new Tianzhou craft to operate for longer than before. Currently, the country needs to launch two Tianzhou ships each year to transport fuel and supplies to the Tiangong station. Upon the new model being put into service, three such craft will be enough to sustain two years of in-orbit operation for Tiangong, according to the designer.
He noted that in the future, engineers will develop a recoverable cargo craft to transport materials back to Earth. Currently, the Tianzhou will burn up during its atmospheric reentry.
Earlier this month, a Tianzhou 4 cargo spacecraft was launched from the Wenchang Space Launch Center in Hainan province and docked with the Tiangong station. It is scheduled to stay connected with Tiangong for six months and will then destroy itself on a trip back to Earth.
Carrying nearly 6 metric tons of propellants and materials, including more than 200 packages, the Tianzhou 4 is tasked with supporting the upcoming Shenzhou XIV mission, during which a three-member crew is expected to stay six months inside the Tiangong station.
Currently, Tiangong consists of the Tianhe core module, the Tianzhou 3 and the Tianzhou 4. Its most recent occupants-three astronauts of the Shenzhou XIII mission-completed a six-month journey and returned to Earth in mid-April.
The Shenzhou XIV spacecraft will be launched next month from the Jiuquan Satellite Launch Center in northwestern China, Hao Chun, chief of the China Manned Space Agency, said last month.
In July, the Tiangong station's first lab component-Wentian, or Quest for the Heavens-will be launched, while the second lab named Mengtian, or Dreaming of the Heavens, will be sent to dock with the station in October, Hao said, adding that after the lab components are connected with Tiangong, the station will form a T-shaped structure.
Following the space labs, the Tianzhou 5 cargo craft and the Shenzhou XV crew are scheduled to arrive at the massive orbiting outpost around the end of the year, the official said.