China's longest-yet crewed space mission impressive, expert says
2021-10-18 China Daily Editor:Xue Lingqiao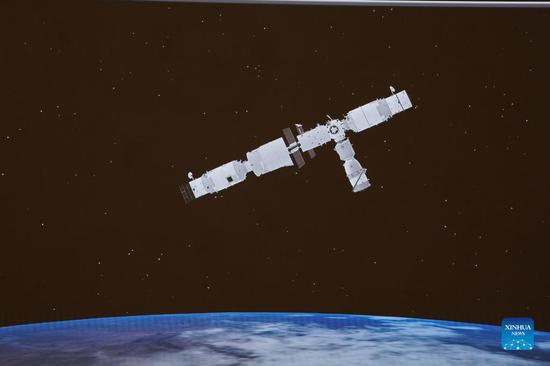 Screen image captured at Beijing Aerospace Control Center in Beijing, capital of China, Oct. 16, 2021 shows China's Shenzhou-13 crewed spaceship having successfully docked with the radial port of the space station core module Tianhe. (Photo/Xinhua)
China's Shenzhou XIII crewed spaceship successfully docked with the port of the space station core module Tianhe on Saturday, a move overseas experts have called another "key step" forward in China's space exploration.
Three Chinese astronauts aboard the Shenzhou XIII will stay in orbit for six months, making China's longest yet crewed mission for space station construction.
Denis Simon, executive director of the Center for Innovation Policy at Duke Law, told Xinhua that China's success in space continues to be impressive.
"It is now well on its way to being a leader in space exploration," he said.
With the current mission, China has taken another key step toward building a Chinese space station, he said.
Akihiro Fujiwara, a satellite engineer at Japan's Mitsubishi Electric extended his best wishes for the launch.
"I always take my hat off to this amazing driving force," Fujiwara said. "I pray for the safe launches and safe returns of the mission."
The crew includes two veterans of space travel-Zhai Zhigang, 55, and Wang Yaping, who is scheduled to become China's first female space-walker. The third member, Ye Guangfu, 41, is making his first trip to space.
Many sent the Chinese astronauts their blessings.
Matthias Maurer, a German astronaut with the European Space Agency and a material scientist, messaged in a tweet on Friday that he was "very excited for my dear friend Ye Guangfu finally going to space".
Maurer said that Ye was the first Chinese astronaut in an ESA astronaut exploration training program in extreme and planetary analogue environments.
"Godspeed to all three of you!-I'll join you soon in space," Maurer wrote.
Retired NASA astronaut Cady Coleman sent encouraging words to Wang, CGTN reported.
"When you look out the window, billions of women are looking out that window with you, including me," she said.
Pui Jeng Leong, a media veteran in Brunei, told Xinhua that the successive successful launches of Shenzhou XII and XIII within a four-month period symbolized that China's aerospace industry has entered a new age with Chinese astronauts' long-term stay in a space station, which once again demonstrates that China's aerospace technology has reached a leading level.
This mission will continue to testify to the key technologies of space station building and lay a solid foundation for more launches of crewed spaceships and other space activities, he said.
"China's capabilities in space launch and exploration promise to grow in the future," US expert Simon noted, saying that "this could be an area for fertile cooperation".
Wang Xuin Tokyo, Chen Weihuain Brussels, Zhao Ruinanin Beijing and Xinhua contributed to this story.