Education, engagement key to preventing problems
2021-09-16 China Daily Editor:Xue Lingqiao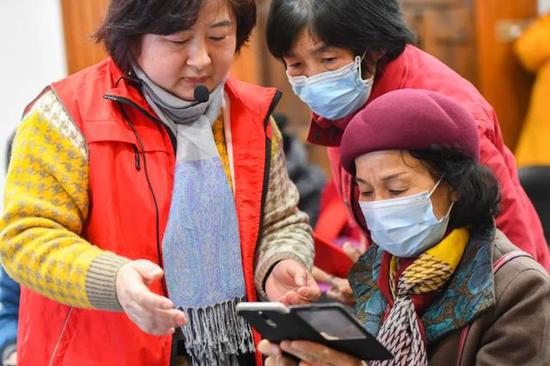 Volunteer in Changsha, Hunan province, teach elderly in a community on how to use a smartphone in August. (Photo/Xinhua)
For the past year, Shangguan Zirui has been zealously engaged in an urgent task. She has worked long hours to steer her retired, widowed mother and her peers in Chengdu, capital of Sichuan province, through the digital jungle of smartphone apps laden with disorienting ads.
The 34-year-old said her intention is to bolster digital literacy among some of the fast-aging residential communities in Chengdu. She hopes to ensure that these less tech-savvy seniors can also ride the wave of China's sweeping digitization drive.
The mobile internet has transformed almost every aspect of life in the past decade, with the greater convenience offered ranging from online payment systems to free navigation to food deliveries.
Now, Shangguan is considering putting on the brakes a little because of addiction concerns.
"I have asked my mom to limit her smartphone use," she said. "I have suggested that she uses her smartphone in the morning and meets friends in the afternoon."
She heads a local startup that focuses on developing social programs for seniors. Many of the programs are rolled out in partnership with local authorities in Chengdu, where almost one in five of the 20 million residents is age 60 or older.
Shangguan has noticed that the highly algorithm-driven, seemingly endless feed of cuisine-related short videos has had her mom, Hu Qiao, glued to the screen as she loves to cook and try new recipes.
Hu also feels agitated about not keeping up with messages-mainly neighborhood gossip, articles on preserving her health and discount ads-that stream in chat groups on WeChat, which she uses to track the latest news and other items, according to her daughter.
Last year, Shangguan spearheaded efforts to educate older adults about the basics of smartphones and the all-encompassing mobile internet. She said the moves were motivated by an existential threat facing seniors in China's highly digitized society.
Faced with the stringent restrictions imposed after the COVID-19 outbreak, many older people struggled to produce a health code-a digital pass that indicates the holder's risk of infection based on their travel history-at checkpoints on streets or when attempting to make online appointments with doctors to avoid crowds.
Concerns about the digital divide gained traction nationwide and prompted the Ministry of Industry and Information Technology to roll out a campaign to bolster online inclusivity for seniors this year.