Two marine satellites to hit orbit shortly
2020-08-19 China Daily Editor:Gu Liping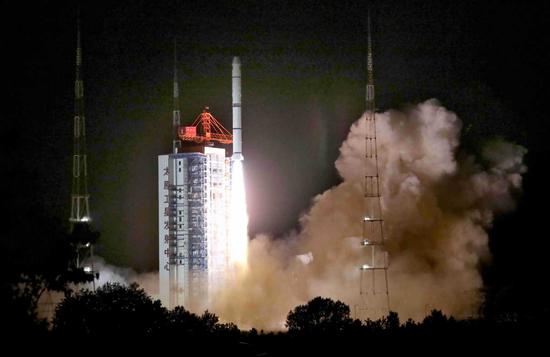 A Long March 2C rocket sends the HY-1D satellite into space at Taiyuan Satellite Launch Center, Shanxi province, on June 11, 2020. [Photo/Xinhua]
China plans to launch two satellites in the coming months for marine research and observation, according to a project insider.
Jiang Xingwei, an academician of the Chinese Academy of Engineering and former director of the National Satellite Ocean Application Service, said in a statement published by the China Aerospace Science and Technology Corp on Monday that one of the satellites will be launched in September and the other in November.
In 2021, two oceanographic research satellites will be launched, he said, adding that Chinese scientists are also developing seven new satellites for marine science and applications.
So far, the nation has deployed eight marine satellites to space, including one jointly made by Chinese and French researchers, according to Jiang.
Sources close to the satellite programs said that the one to be launched in September will be the HY-2C, the third in the HY-2 series observation fleet.
Developed by the China Academy of Space Technology in Beijing, the satellite will be tasked with studying the marine dynamics, like its two predecessors. It will be lifted by a Long March 4B carrier rocket at the Taiyuan Satellite Launch Center in Shanxi province, according to sources.
HY-3A, the first in the HY-3 series, will be lifted in November by a Long March 4B at the Jiuquan Satellite Launch Center in the Inner Mongolia autonomous region. It will be used to conduct marine surveillance operations with its advanced radar, sources said.
Their service will extensively foster China's oceanographic research and marine development capabilities, scientists have said.
In June, China used a Long March 2C rocket to place its latest marine observation satellite, HY-1D, in space from the Taiyuan center.
The spacecraft, operating in a sun-synchronous orbit, now works with its predecessor-HY-1C, which was launched in September 2018-forming a small network for scientific marine observation, according to the China National Space Administration.
HY-1D carries five pieces of scientific equipment, including an ocean color scanner, an ultraviolet imager and an automatic identification system. It is expected to operate in orbit for five years.
The two-satellite network was established to improve China's ability to monitor, evaluate and forecast maritime risks such as storm surges, red tides, sea ice and huge waves, and to help save lives and property. They also enable scientists to better study global environmental changes, the role of the oceans in the global carbon cycle and the El Nino phenomenon, according to designers.
China has paid great attention to the research and survey of marine resources for many years and started discussing the construction of marine research satellites in the 1980s. The country launched its first marine observation satellite, HY-1A, in May 2002.