AI system can analyze up to 2,000 COVID-19 CTs a day
2020-08-18 chinadaily.com.cn Editor:Gu Liping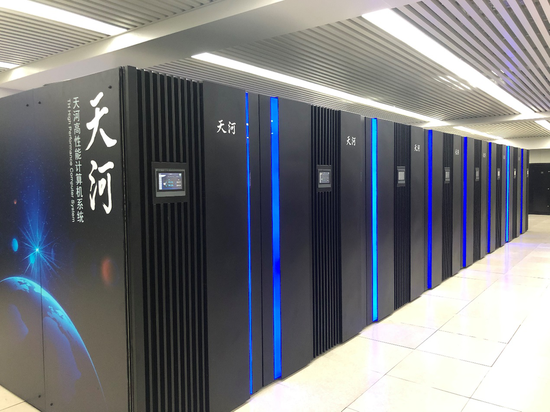 The Tianhe-1 computer room is seen at the National Supercomputer Center in Tianjin, China, on Aug 17, 2020. [Photo by Jiang Lu/chinadaily.com.cn]
The AI-supported assistance system to analyze CT images of COVID-19 patients opened to the world in this early April, it has benefited more than 100 overseas medical institutions. Total visits during peak hours reached more than 2,000 per day.
The National Supercomputer Center in Tianjin jointly tested and adopted this system with hundreds of experts from over 50 research and development institutions worldwide, and from over 30 hospitals across the nation.
The system is based on the Tianhe Integrated Artificial Intelligence Innovation Platform developed using China's Tianhe supercomputer at its center in Tianjin's Binhai New Area.
According to the supercomputer center, it launched a computed tomography scan analysis system with operating languages in Chinese and English.
The National Supercomputer Center in Tianjin owns the Tianhe-1 supercomputer and Tianhe-3 supercomputer prototype system. Now the center provides high-end information technology service, such as high-performance computing, cloud computing and big data, for nationwide research institutes, universities and key enterprises.
The Tianhe-1 supercomputer works on more than 8,000 scientific research computing projects at full load every day.
To develop economy and industry service, over 10 specialized platforms in many domains have been built relying Tianhe-1, such as oil exploration, advanced material and smart city.