Official: U.S. election will not affect mainland's Taiwan policy
2020-11-12 China Daily Editor:Mo Hong'e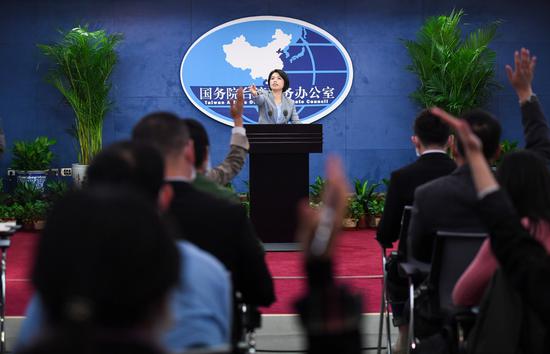 Zhu Fenglian, a spokeswoman for the State Council Taiwan Affairs Office. (Photo/Xinhua)
Moves to pursue reunification, thwart separatists to continue
The Chinese mainland's policy toward Taiwan remains consistent after the presidential election in the United States, a mainland spokesperson said on Wednesday.
The mainland will continue to curb separatist activities aimed at "Taiwan independence" and promote the peaceful development of cross-Straits relations and the reunification of the mainland and Taiwan, said Zhu Fenglian, a spokeswoman for the Taiwan Affairs Office of the State Council.
She called on the U.S. government to recognize the high sensitivity of the Taiwan question and abide by the one-China policy.
Taiwan leader Tsai Ing-wen congratulated Democratic Party presidential candidate Joe Biden last week on social media after Biden declared victory over U.S. President Donald Trump.
Tsai said earlier that relations between the U.S. and the island will not be affected regardless of the election result, and the island will continue to seek support from the U.S..
Zhu said that the Democratic Progressive Party, the ruling party on the island, has been developing relations with the U.S. under the guise of "economy" and "commerce", which will only lead to further exploitation by the U.S. and harm the interests of Taiwan residents.
The main causes of recent tense cross-Straits relations are the DPP's promotion of moves signaling "independence" and collusion with foreign forces for provocations against mainland, she said.
"The recent frequent presence of PLA military aircraft over the Taiwan Straits is a stern response to the DPP's provocative acts of 'Taiwan independence'," Zhu explained.
It is a necessary action in response to the current security situation across the Straits and the need to safeguard national sovereignty, she added.
She said only when the DPP authorities return to the 1992 Consensus, which embodies the one-China policy, can cross-Straits relations improve.
Lee Cheng-hung, president of the Association of Taiwan Investment Enterprises on the Mainland, said the mainland is Taiwan's biggest trading partner, but the DPP has been escalating cross-Straits tension for its own political benefit.
Huang Ching-hsien, former director of the Kuomintang mainland affairs department in Taiwan, said instead of allowing itself to be used by the U.S. to resist the mainland, Taiwan should promote peaceful exchanges and cooperation with the mainland to improve people's livelihood.