How Belt and Road helps global recovery amid COVID-19 pandemic
2020-09-01 Xinhua Editor:Gu Liping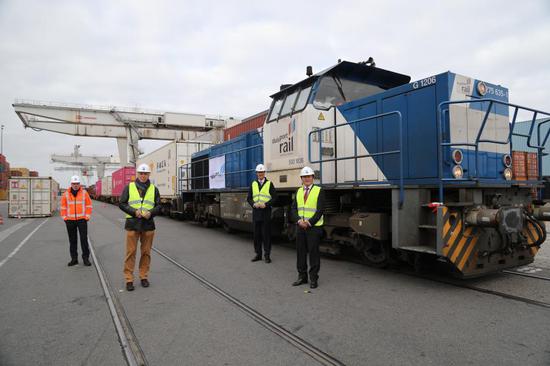 Chinese and German guests attend the welcome ceremony of China-Europe freight train from Wuhan in Duisburg, Germany, April 14, 2020. (The Consulate General of the People's Republic of China in Dusseldorf/Handout via Xinhua)
As the COVID-19 pandemic is dragging the global economy into a deep recession, the Belt and Road Initiative, with the participation of overseas Chinese enterprises, have rekindled some hope.
Serving as an international platform for cooperation, the Belt and Road has played a vital role in assisting the fight against the pandemic and stabilizing global supply and industrial chains.
Workers of overseas Chinese enterprises and their local counterparts are busy resuming production while taking strict protective measures.
HEALTH SILK ROAD
In a phone conversation held in March with Italian Prime Minister Giuseppe Conte, Chinese President Xi Jinping said China is willing to work with Italy in global efforts to combat the epidemic and create a Silk Road of Health.
On April 14, a China-Europe freight train loaded with much-needed medical and industrial supplies arrived in the western German city of Duisburg.
Noting the difficulties facing German citizens because of the pandemic, Transport Minister of the German State of North Rhine-Westphalia Hendrik Wuest said the goods transported from China, especially medical materials, were of vital importance.
In the first half of 2020, China-Europe freight trips rose 36 percent year-on-year to 5,122, transporting 3.67 million pieces and 27,000 tons of anti-pandemic materials to European countries, including Italy, Germany, France, Spain, Poland and Hungary.
Complaining about the massive disruption of the supply chains caused by COVID-19, Michael Schumann, board chairman of the German Federal Association for Economic Development and Foreign Trade, said "in this sense the Belt and Road Initiative can of course make an important contribution to the future."
The ancient Silk Road has become both a cargo lifeline and a bond of solidarity.
Soon after Iraq reported its first COVID-19 case, a Chinese medical team consisting of seven experts arrived in the Iraqi capital of Baghdad on March 7. Days later, a Chinese-built lab for coronavirus testing was inaugurated in the war-torn country.
"The Chinese experts are very supportive and helpful," lab director Mohammed Ghanim Mahdi said. "When they were here, they gave us all the technical training we need. This can be a treasure for us."
Keshmeer Makun, a lecturer at the University of the South Pacific, said the pandemic has strengthened, not restrained, cooperation under the Belt and Road framework.