China adopts world's first modern-day civil code
2020-05-29 Xinhua Editor:Gu Liping
What civil rights is a person entitled to?
Do unborn children have rights and interests?
What is the legality of AI face-swapping apps?
What regulations must pet owners obey?
Can virtual assets, such as Bitcoins, be inherited?
The answers to all these questions, and more, can be found in China's Civil Code.
Chinese lawmakers Thursday voted to adopt the country's long-expected Civil Code at the third session of the 13th National People's Congress (NPC), the top legislature.
The law will take effect on Jan. 1, 2021.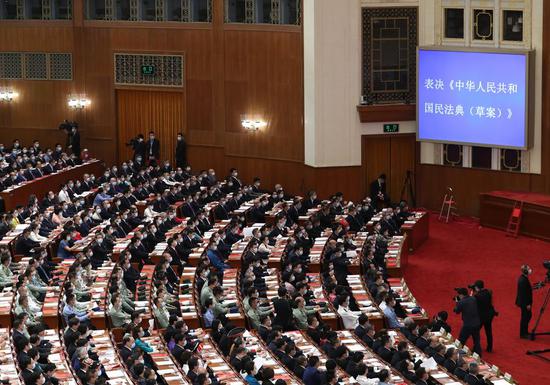 The closing meeting of third session of the 13th National People's Congress (NPC) is held at the Great Hall of the People in Beijing, capital of China, May 28, 2020. (Xinhua/Ding Haitao)
"The Civil Code is the first law to carry the title 'code' for the People's Republic of China. It lays down the fundamental principles and regulations regarding civil activities and relations. It reflects the will of the people and protect their rights and interests," said Wang Liming, executive vice president of Renmin University of China and a law professor.
"China's Civil Code will be the latest civil code born in the 21st century," said Peng Chengxin, professor and vice dean of Koguan School of Law of Shanghai Jiao Tong University.
China had made four attempts to compile a civil code since 1949 only to stop for various reasons.
Nonetheless, China enacted the General Principles of Civil Law in 1986, and laws covering areas such as property, tort liability, contract, marriage, and inheritance continued to be added or updated. These laid the groundwork for a civil code.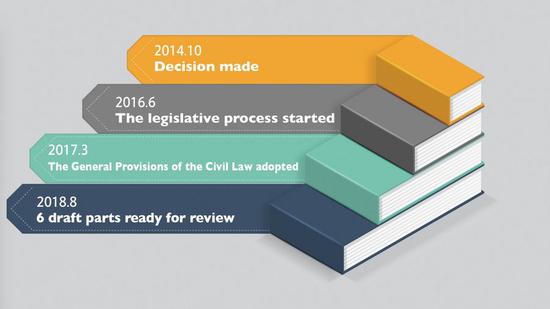 Picture demonstrates a brief compilation process of China's draft civil code. (Xinhua/Gao Shan)
The decision to compile a civil code was announced in October 2014, and the legislative process started in June 2016.
March 2017 saw the General Provisions of the Civil Law adopted.
By August 2018, six draft parts were ready for review by lawmakers.
Fast-forward to December 2019, following multiple reviews, public solicitations, other appraisal activities, and numerous revisions, a complete 84-chapter draft civil code was unveiled.
According to official statistics, in the course of compiling the draft civil code, 1.02 million pieces of advice had been solicited from around 425,000 people.
"Since we entered the new era, people's incomes and living standards have seen remarkable improvements. Subsequently, people started to pursue a more vibrant spiritual life and developed higher demand for democracy, the rule of law, fairness, justice, and protection of private property and personal dignity," said Wang Liming when explaining why China needs a civil code.
In fact, China already has a slew of stand-alone civil laws and regulations in place. But these laws, introduced at different times, sometimes overlap, and occasionally even contradict each other.
"The reason for that is we didn't have a unified civil code. If we have one, it would be the first and overarching law that lawyers and judges could refer to when resolving civil cases," said Wang Liming. "So this Civil Code will significantly help judges use law accurately, avoiding contradicting verdicts in similar cases."
Li Jing, an NPC deputy and president of the Tianjin High People's Court said that the Civil Code will result in a more comprehensive, authoritative and effective rule for judgment, and more sufficient legal bases for courts and judges.
The Civil Code consists of the general provisions, the supplementary provisions, and six parts on property, contracts, personality rights, marriage and family, inheritance, and tort liability. It will serve as a systematic fundamental law in the civil and commercial fields.
It stipulates that all natural persons are equally entitled to civil rights, with unborn children entitled to inheritance and gifts.
It has a section regarding personality rights, which include rights to life, body, health, name, portrait, reputation, honor, privacy, and others.
It also protects information, email addresses and location data.
It states that the property rights of individuals are equally safeguarded to those of the State and collective, and online virtual assets are protected, too.
The code includes a provision requiring the adoption of appropriate measures to prevent sexual harassment in workplace, schools, and other institutions.
Minors who are victims of sexual abuse or assault can still claim through legal channels after they turn 18.
The code is also "green", with those who harm others due to pollution or environmental damage set to bear tort liability.
The 1,260-article Civil Code also covers rental tenants' rights, intellectual property protection, property inheritance, regulations on scientific studies related to human genes or embryos, and new rules on handling cyberspace torts, and many more.
Law experts say that the Civil Code highlights the respect and protection of individual's freedom, dignity, interests and rights. It also responds to new changes and new problems in the modern society.
"In response to big data and other internet advances, the Civil Code includes new regulations regarding the protection of privacy and personal information. This was an issue that people deeply cared about," said Li Shigang, professor and vice dean of Fudan University law school.
"Placing personality rights as a separate component to highlight the importance of personal freedom and dignity is original and extremely important," said Peng Chengxin. "Another crucial point is that the value of saving natural resources and protecting the environment is prominent throughout the code."
According to law professors, this legislation is much more than just a Chinese law for Chinese people.
"China's Civil Code will have a significant impact on foreigners and foreign companies who do business here in China. The law will remarkably improve China's business environment, which is an excellent sign," said Ning Hongli, professor at school of law at University of International Business and Economics.
"The Civil Code demonstrates China's confidence and resolution to carry out the rule of law further. Foreign enterprises can come to China with their minds at ease as all their rights and interests will be fully protected by law," said Peng Chengxin.
Whether it's the right of unborn children or the legality of AI technology, China's Civil Code will affect the rights and interests of its people, and all those that call China home.
It also marks a new milestone: the completion of another stage in the modernization of China's governance system.