'It's a Boy!' U.S. zoo reveals sex of giant panda cub
2020-10-06 Xinhua Editor:Li Yan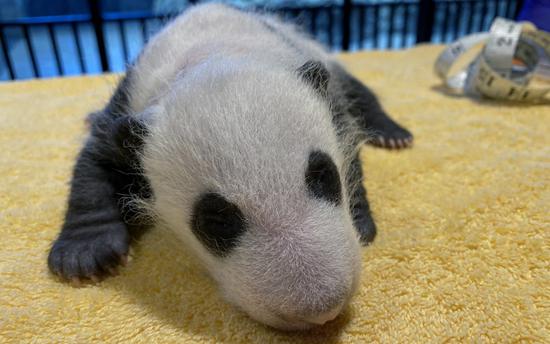 This is a photo of the giant panda cub posted by the Smithsonian's National Zoo on its official website on Sept. 21, 2020. (Credit: Smithsonian's National Zoo)
"It's a Boy!" The Smithsonian's National Zoo in Washington, D.C. said on Monday that its giant panda cub, born in August, is a male.
The announcement came two weeks after zoo veterinarians obtained a swab from the cub's cheek for DNA analysis.
Scientists sequenced a short fragment of the zinc finger protein gene, the zoo said in a release.
"The X and Y chromosomes both have this gene, with slightly different DNA sequences," it explained. Scientists determined that the swab sample taken by the Zoo's veterinarians has both sequences present, confirming that the cub is male.
Outwardly, male and female cubs appear similar at birth, so a genetic test was the most accurate way to determine the cub's sex.
The cub "appears to be healthy and strong" and both of his eyes are starting to open, according to the zoo.
During a brief exam conducted earlier this month, keepers took the cub's measurements. He weighed 3.6 pounds (1.66 kilograms) and measured 14 inches (35.56 centimeters) from nose to tail tip. His abdominal girth was 12.5 inches (31.75 centimeters).
Mother Mei Xiang, 22, gave birth to the cub on Aug. 21, the seventh since she and male giant panda Tian Tian began living in the zoo in 2000. Three of her cubs have survived to adulthood and moved to China when they were four years old.
Part of the renowned Smithsonian Institution, the National Zoo, located in northwestern Washington, D.C., has a decades-long partnership with Chinese scientists and curators on conserving giant pandas.