European zoos well stocked for bamboo
2020-05-26 China Daily Editor:Li Yan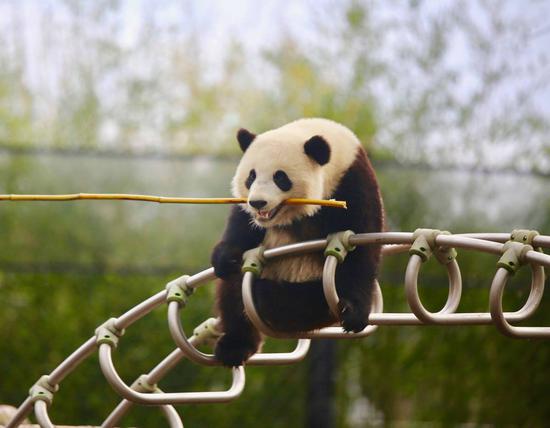 Tian Bao was born in 2016 in the Belgian zoo of Pairi Daiza in Brugelette and is the son of Hao Hao and Xing Hui, two giant pandas that arrived at the Zoo in 2014. (Photo provided by the Belgian zoo of Pairi Daiza)
Giant pandas in Belgium and the United Kingdom have sufficient fresh bamboo during the COVID-19 pandemic, thanks to local bamboo plantations in Europe, zookeepers said.
Each week, around 1,000 kilograms of fresh bamboo are delivered from La Bambouseraie, a bamboo plantation in the Cevennes region of France, to the Belgian zoo of Pairi Daiza in Brugelette, where two giant pandas live with their three offspring.
"It is very important for us to be assured that we always and at every time are capable of providing fresh bamboo of the highest quality for our dear pandas, who are very important to us and who we love so much," said Mathieu Goedefroy, spokesman of the Pairi Daiza. "That's why we decided to buy this grow house, which is located on an amazing and huge domain."
The history of the La Bambouseraie can be traced back to 1856, when an amateur botanist named Eugene Mazel began his first plantings by acclimatizing exotic species from different parts of the world.
Today, more than 240 varieties of bamboo grow in the park, such as Japanese maples, camellias, redwoods, and so on.
Goedefroy said more than 20 different species of bamboo are used to feed the pandas, but the one they love the most is the phyllostachys bissettii, a species found in China's Sichuan province.
He said of those 1,000 kilograms of bamboo delivered every week, only a fraction is eaten by the pandas. The rest of it is used to nourish other animals in the zoo, including elephants, red pandas, giraffes, and other species.
"In that way, we make sure not to waste any of those high-quality bamboo," he added.
In the UK's Edinburgh Zoo, shipments of fresh bamboo come from the Netherlands, and the logistics have not been affected by the COVID-19 disease.
Jo Elliot, animal collection manager at Edinburgh Zoo, said: "We have made sure that our stores are topped up and ready, which means that we have a bit of resilience in there if we do have any supply chain issues.
"Many of the animals have specialist diets — obviously the pandas, Tian Tian and Yang Guang, need their bamboo. Most of it gets shipped in from the Netherlands, and at the moment that is fine, we are still getting deliveries."
Earlier this month, Canada's Calgary Zoo said it would be returning two giant pandas to China because limited flights were possible due to COVID-19 and there were resulting problems getting enough bamboo for the pandas.
Giant pandas have special diet requirements and each adult consumes about 35 kilograms of bamboo shoots, or 20 kilograms of fresh bamboo and bamboo leaves daily. In Calgary, bamboo was not grown locally and had been shipped in from China.
"We have also contacted our colleagues from Calgary, Canada, to see if we could be of any help for them with our bamboo supplies," Goedefroy said.