Japan's Kobe city to return giant panda to China as lease expires
2020-05-20 Xinhua Editor:Gu Liping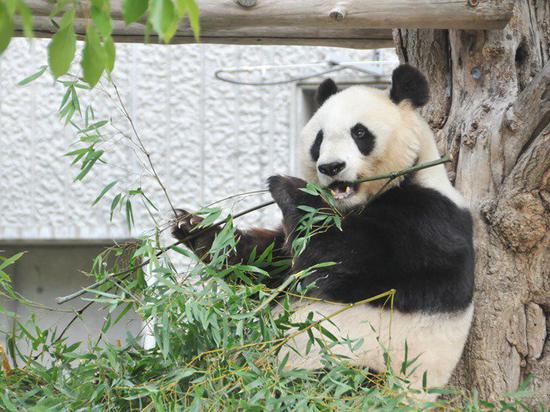 Female giant panda Tan Tan at Kobe Oji Zoo in Japan. (Photo credit: Kobe Oji Zoo)
The Japanese city of Kobe will return a giant female panda rented from China for breeding purposes as the lease agreement is set to expire in July, the city said Tuesday.
Tan Tan, the 24-year-old panda, has the equivalent age of between 60 and 70 in human years. It came to Kobe Oji Zoo in 2000 and bred in 2008 through artificial insemination.
The departure of Tan Tan will bring the total number of pandas in Japan to nine, with three in Ueno Zoological Gardens in Tokyo and six in Adventure World in Wakayama Prefecture in western Japan.
"I want to thank Tan Tan, who came after the Great Hanshin Earthquake and gave cheer to quake-affected children and many other citizens," Hiroyuki Ueyama, head of the zoo, said in a press conference.
As flight schedules remain uncertain in the COVID-19 pandemic, the zoo said it has not decided exactly when the panda will leave Japan.
Tan Tan came to the zoo under a 10-year lease, but her stay was prolonged after the Chinese side agreed to extend the contract for five years twice.
The zoo is currently closed but plans to reopen on June 1 with a limited number of 2,000 visitors per day to avoid the spread of the virus, it said.