Giant pandas to return to China from Canada two years earlier
2020-05-14 Xinhua Editor:Li Yan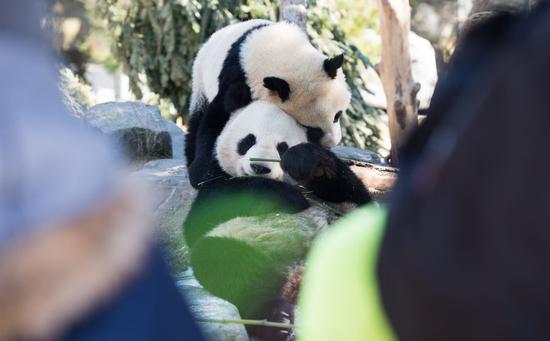 Giant panda cub Jia Panpan (Top) (meaning Canadian Hope) and its mother Er Shun play at the Toronto Zoo in Toronto, Canada on March 17, 2017. (Xinhua/Li Haitao)
Two giant pandas under a 10-year lease in Canada will return to China two years ahead of schedule as COVID-19 affects bamboo supplies to the zoo where the bears are staying.
The pandas, Ershun and Damao, will return to China from the Calgary Zoo before its lease agreement with China expires. Fresh bamboo shoots from China cannot be delivered to the zoo as the coronavirus epidemic has reduced the number of international flights.
"We have decided to end the cooperation after discussions with our Canadian partner," said Zhang Zhihe, director of the Chengdu Research Base of Giant Panda Breeding in Chengdu, capital of southwest China's Sichuan Province.
Zhang said they used to provide fresh bamboos to the zoo via flights, but the epidemic has made such delivery difficult.
"The Canadian part has tried to find alternative bamboo shoots from other areas, but the pandas could not adapt," Zhang said.
Zhang said that the base looks forward to and has completed preparations for the return of the two pandas.
The pandas arrived in Canada in March 2013. They were to stay in the Toronto Zoo and the Calgary Zoo under the agreement. In October 2015, Ershun gave birth to a pair of panda babies. Er Shun and Da Mao moved to the Calgary Zoo in 2018.