Zoo Berlin: We will try our best to raise our twin pandas despite revenue losses amid COVID-19
2020-04-23 Global Times Editor:Li Yan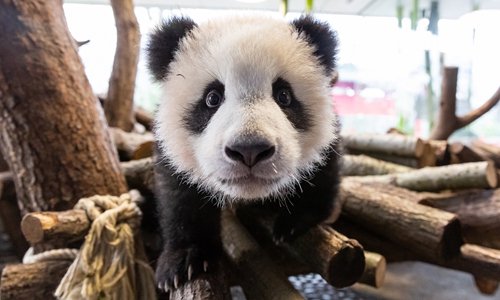 Twin Pandas in Berlin Zoo, Germany. (Photo/Courtesy of Berlin Zoo)
Germany's Zoo Berlin will not consider killing animals for financial reasons amid the COVID-19 pandemic and twin pandas Meng Xiang and Meng Yuan are quite well, Katharina Sperling, an employee with the communication center at Zoo Berlin, told the Global Times on Tuesday.
The reply follows concern from Chinese netizens over the condition of the panda twins after the hashtag "German zoo plans to slaughter animals in response to epidemic situation" started trending on China's Twitter-like Sina Weibo.
Sperling said that although some animals have noticed that visitors are missing, their keepers know how to keep the animals busy in other ways during the shutdown.
"The panda family loves to play with toys made by the keepers. Especially Meng Yuan and Meng Xiang, our young ambassadors from China, like to play with different toys like knotted ropes," Sperling replied in an email.
The twin pandas were born at Zoo Berlin on August 31, 2019, and made their public debut in January. Their process to choose their names once became the center of controversy after a German newspaper poll put forth the name as "Hong" and "Kong," in support of the ongoing protests in Hong Kong.
According to Sperling, Zoo Berlin, Tierpark and Aquarium Berlin have been closed since April 17 to control the spread of the coronavirus. The closures have resulted in considerable financial losses since the three parks are highly dependent on admissions and donations.
"The operation of our three facilities in Berlin costs around 140,000 euros [$150,000] per day! We cannot shut down our zoo as in other industries. Of course, we must continue to care for our 30,000 animals," she noted.
However, Sperling emphasized they will not consider euthanizing or slaughtering animals to feed to other animals out of financial concerns.
"Clearly there will be no emergency slaughter here in Berlin - we do not consider killing animals for financial reasons. In case of a financial emergency, we would prioritize the deprecation of construction projects or other investments," read the email.
In facing the pandemic, Zoo Berlin has taken a lot of emergency measures to protect the animals including minimizing human-animal contact and dividing the staff into two groups to reduce person-to-person contact. Meanwhile, they have also been exchanging information with other zoos and scientists.
"The exchange among colleagues is very helpful. We would appreciate the expertise from Chinese zoos, too," Sperling added.