Pandas proliferate in ideal environment
2020-03-16 chinadaily.com.cn Editor:Li Yan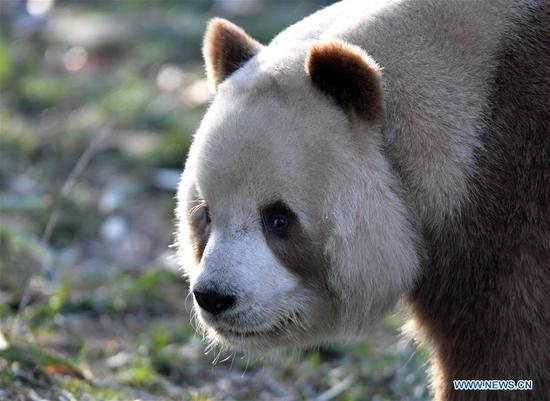 Qizai, a rare brown and white giant panda, is seen at Qinling Research Base of Giant Panda Breeding of Shaanxi Academy of Forestry in Xi'an, Northwest China's Shaanxi province, Dec 3, 2019. (Photo/Xinhua)
The Qinling Mountains, located mostly in Northwest China's Shaanxi province, have been a favored home for giant pandas, whose habitat exceeds 3,600 square kilometers.
The population of wild giant pandas in the mountains has risen to 345, according to conservationists.
The Rescue and Protection Base for Rare Wildlife of the Shaanxi Academy of Forestry said that, on average, there are about 10 giant pandas per 100 square kilometers living in the Qinling Mountains, based on a survey last year.
The potential panda habitat there has been extended to 2,446 sq km, it said.
The base, which is also a breeding site for Qinling giant pandas, announced at the end of 2017 that it had mastered the core technique of testing the reproductive hormone levels of the animals. As a result, researchers in the province have developed more effective breeding techniques.
Since the first panda was born after being conceived with artificial techniques in Shaanxi province in 2003, researchers here have successfully bred 20 Qinling giant pandas. The population of the bears bred in captivity now stands at 28.