Panda recognition tech relieves human work in nature reserve
2019-12-25 Xinhua Editor:Gu Liping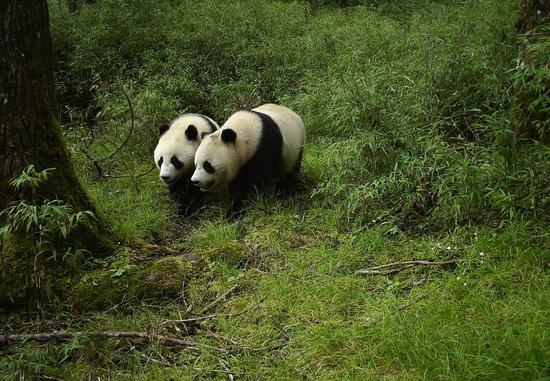 The image captured by an infrared camera on July 24, 2019 shows a pair of sub-adult giant panda twins at Wolong National Nature Reserve in southwest China's Sichuan Province. (Xinhua)
In the sparsely populated giant panda habitat in west China, it is a once in a lifetime chance for a wild life ranger to encounter a wild giant panda. But infrared cameras assisted with panda recognition technology can capture them more frequently.
In the administration office of the Baishuijiang Nature Reserve in northwest China's Gansu Province, images of wild pandas caught by six field cameras are clearly visible on the screens.
There are about 110 wild giant pandas living in the reserve area of more than 1,800 square km.
He Liwen, director of the Giant Panda Management Office in the nature reserve administration, said the panda recognition system built in October enables the cameras to automatically identify giant pandas and begin recording. The system can generate folders to store and manage the video clips of the panda sightings.
"'Bear face recognition' is similar to human face recognition technology, but more difficult," said He.
He explained that human facial recognition can distinguish through facial features. However, it is difficult to capture wild animals' faces when they appear. More often, the cameras can only capture a part of the animals' bodies.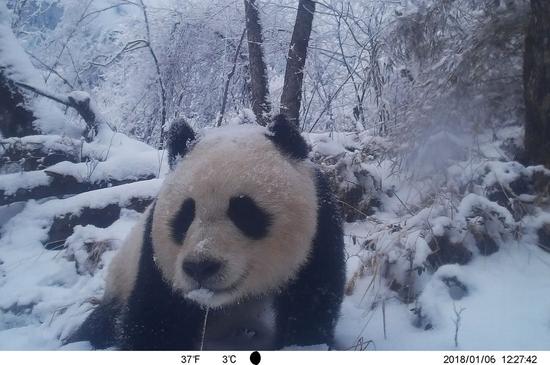 Photo taken on Jan. 6, 2018 by an infrared camera shows a wild giant panda in Baishuijiang National Nature Reserve in northwest China's Gansu Province. (Xinhua/Baishuijiang National Nature Reserve)
He said the system is very "sensitive" to panda images.
"The administration began in 2017 to develop the panda recognition system with massive archived panda photos photographed in the reserve over the years, which enables the system's panda recognition ability," he said.
He said with the system, the animal protection staff can stay in the office to watch the real situation in the panda habitat and study panda activities.
Forest rangers replace batteries and memory cards for the infrared cameras on a quarterly basis.
With the introduction of the cameras, a large amount of rare video footage and pictures of wild giant pandas have been captured, such as a panda mother and child pandas.