Pandas travel to Russia for first time in 62 years
2019-06-06 14:23:19 CGTN Mo Hong'e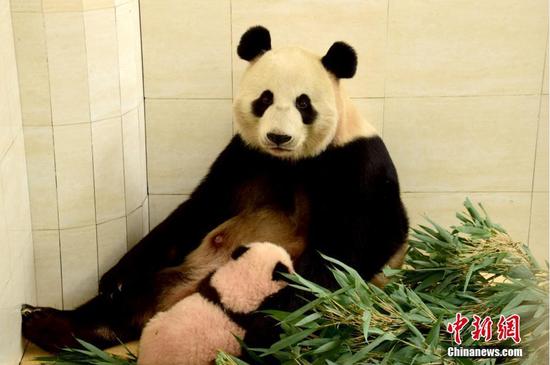 Ru Yi and his mother Mei Qian. (Chinanews Photo)
The panda, China's national treasure, has served as a goodwill ambassador many times and made indelible contributions to the development of friendly relations with other countries. From 1957 to 1982, China gave 23 pandas to nine countries. It is China's diplomatic way of promoting friendly relations by giving or renting pandas abroad.
Giant pandas Ru Yi and Ding Ding departed from Chengdu for Moscow, Russia, on April 29 this year. The pair arrived in their new city later that day. They will be the focus of a 15-year collaborative research project at Moscow Zoo. This is the first time in 62 years that a giant panda has departed Sichuan Province for Moscow.
On May 18, 1957, giant pandas Ping Ping and Qi Qi, symbols of peace and friendship, traveled to the former Soviet Union. The panda pair from Boaxing County were the first of their species to go abroad after the founding of New China in 1949.
Female panda An An was sent to the Soviet Union in 1959 to be Ping Ping's mate. She lived in Moscow for more than six years, while Ping Ping stayed until his death in 1972, which was the last time a panda lived at Moscow Zoo.
And now, 3-year-old male Ru Yi and 2-year-old female Ding Ding will serve as China's symbols of peace and friendship.
On February 28, 2019, China Wildlife Conservation Association and Moscow Zoo signed an agreement on the protection and research cooperation of giant pandas.
Moscow Zoo sent full-time keepers and veterinarians to China in advance to learn about the breeding and medical care of giant pandas.
The zoo will also fly bamboo shoots from Sichuan regularly, and the pandas will be able to choose the best food from Chinese and Russian bamboo, Xinhua News Agency reported.
Over the past few years, from gifts given by the country, to exhibitions abroad and cooperative research, the "panda messengers" have conveyed the friendship of China to other parts of the world with their unique charm.