Panda and penguin compare their fashion sense at meet-up
2019-12-05 Global Times Editor:Li Yan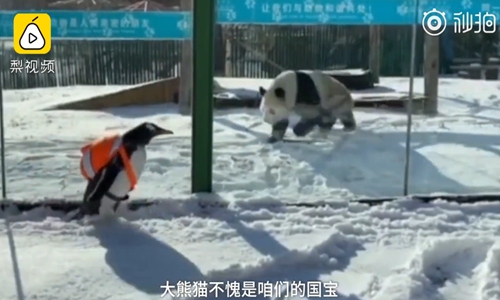 Seeing black and white: A penguin and panda meet up at the Harbin Polarland zoo in Harbin, Northeast China's Heilongjiang Province. (Photo/Screenshot from video by Pear Video)
Both are black and white and thrive in the cold: One is a bird and has feathers, the other a bear with a heavy coat of fur. Somehow animal handlers at Polarland zoo in Harbin, Northeast China's Heilongjiang Province came up with the idea that China's "national treasure" might want to meet a flightless bird from the Antarctic.
A video posted Tuesday by Pear Video shows the penguin excited, curious, and unafraid, as the panda paces back and forth in front of the glass wall separating the two.
The report says the penguin was brought by train from Polarland and is seen in the video wearing a backpack, quickly waddling across a snow-covered yard, straight for the panda's enclosure ignoring an assembly of reporters. Pear Video didn't mention where the panda lives.
The panda, in typical fashion, had to first finish its meal of bamboo before finding a rare burst of energy and start interacting with its strangely familiar visitor. It soon gets tired and resumes munching on a branch of bamboo.
Bamboo makes up 99 percent of pandas' diet but they are classified as carnivores.
A netizen suggested that given the chance perhaps pandas potentially prefer penguins.