Social media heats up over hotpot-shaped pool at hot springs
2018-10-16 14:17:14 Global Times Li Yan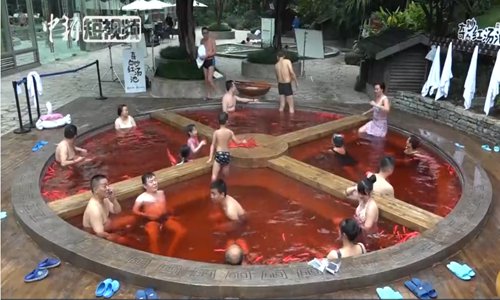 Bathers enjoy a hotpot-shaped pool containing water treated with medicinal herbs at a hot springs in Chongqing. (Source: China News Service)
A hot springs in Southwest China's Chongqing is paying homage to the area's famed spicy cuisine with a hotpot-shaped pool.
The 6-meter-wide pool at Ronghui Hot Springs is built to resemble the mountainous city's trademark four-celled hotpot, which usually contains meats and vegetables boiled in a fiery broth.
Video shows people lounging in the pool, complete with red-tinted water and plastic chili peppers.
According to reports, the red color comes from a combination of medicinal herbs and flowers added to the water.
The most pronounced ingredient is millettia, a vine-like plant with a red resin that according to traditional Chinese medicine is said to help promote blood circulation.
Widely circulated photos of the hotpot pool got Sina Weibo simmering with curiosity.
"Haha, that's interesting! I'd like to have a soak, too!" wrote "Huhuweikuangshanzhamei."