50 years on, Ping-Pong Diplomacy still elevates China-US ties
2021-04-25 Xinhua Editor:Li Yan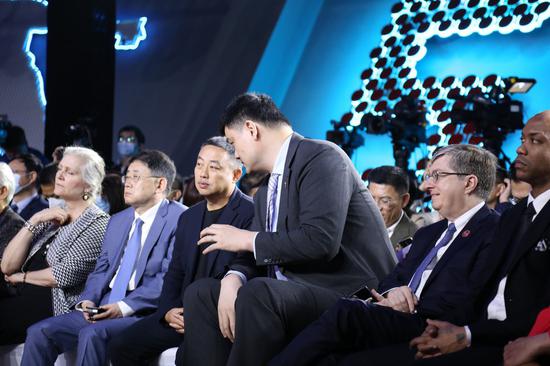 Chinese Basketball Association (CBA) president Yao Ming (4th L) talks with Chinese Table Tennis Association president Liu Guoliang (3rd L) during a special event to commemorate the 50th anniversary of the Ping-Pong Diplomacy between China and the United States in Beijing, capital of China, April 24, 2021. (Xinhua/Wu Bowen)
World champion Liang Geliang had probably not expected that 50 years after "Ping-Pong Diplomacy" occurred, he and American counterpart Judy Hoarfrost would be able to play a table tennis game over 10,000 kilometers apart.
A commemorative event marking the 50th anniversary of "Ping-Pong Diplomacy" was held at the Shougang Park here on Saturday, the second time that China has celebrated the historic period in a fortnight.
Over 400 people from the two countries, including many historical witnesses, attended this event, paying tribute to the great historic event as well as to carry forward the friendship between the Chinese and American peoples.
Thanks to advanced technologies, a VR Ping-Pong game between Liang and Hoarfrost was made a reality. Perhaps fittingly, given the theme of "Friendship First," the match ended in a 2-2 tie.
MARKING A HISTORIC PERIOD
The commemorative event was jointly hosted by the Chinese People's Association for Friendship with Foreign Countries (CPAFFC), China's General Administration of Sport and China-U.S. People's Friendship Association.
At the conclusion of the 31st World Championships in Nagoya, Japan, at the invitation of the Chinese table tennis team, the U.S. table tennis team arrived on April 10, 1971, to commence their visit to China, becoming the first U.S. group to visit since the founding of the People's Republic of China in 1949.
Three months later, then U.S. National Security Advisor Henry Kissinger paid a secret visit to China.
"The 50th anniversary of the invitation to the American Ping-Pong team to China marked a significant and nostalgic event," Kissinger said in a video speech at Saturday's event.
"The significance of the event is that a number of little steps are sometimes needed to make great conclusions," he added.
The Chinese team paid a return visit the following year. The mutual visits broke the ice in two decades of estranged China-U.S. relations and eventually led to the normalization of bilateral ties.
Li Furong, then a member of the Chinese team, recalled the scene prior to their departure.
"The guiding principle of 'Friendship First' means that table tennis is not just a sport, but rather its implications have been broadened. 50 years later, 'Ping-Pong Diplomacy' is able to continue its functions in making friends and making greater contributions to friendship between the two peoples," he noted.
Liang noted that "Ping-Pong Diplomacy" reflected a common aspiration of the people for a better life.
"Ping-Pong Diplomacy not only enhanced the friendship between the Chinese and American peoples through sincere and friendly exchanges between table tennis players of the two countries, but also demonstrated the exceptional political wisdom and strategic vision of leaders of the older generation, who rose above differences in ideology and kept up with the trend of the times," commented Lin Songtian, President of the CPAFFC.