Yi woman from deep mountains sews prosperous life
2020-07-16 Xinhua Editor:Li Yan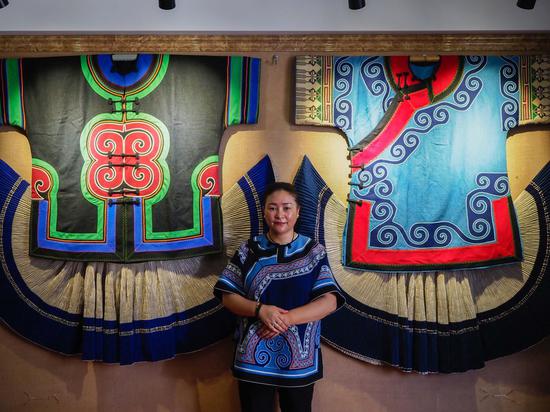 Shen Xiaoying and the Yi costumes she made, June 17, 2020. (Xinhua/Wang Di)
Had Shen Xiaoying not run away from a remote village in southwest China's Sichuan Province more than 30 years ago, she would have married one of her cousins -- a child betrothal arranged by her parents -- and probably spent the rest of her life in the deep mountains.
The woman, from the Yi ethnic group, trekked several days from her village, 3,000 meters above sea level, down the mountain to town at the age of 16.
"Life in isolation was so hard that I told myself I had to move off the mountain," said Shen, now 49.
She was a dishwasher and a cleaner before opening an embroidery clothing shop in the city of Xichang of Liangshan Yi Autonomous Prefecture, some 200 km away from her home. The shop, a three-story building, brings an annual income of 3 million yuan (about 428,400 U.S. dollars).
China is aiming to eradicate absolute poverty this year. Liangshan, home to 178,000 impoverished people, is one of the poorest regions in the country.
Yi women attach much importance to their clothes. A traditional Yi costume usually consists of a long pleated skirt, an upper garment with decorative patterns and headwear used to wrap long hair, as well as silver accessories.
Before the 1990s, when clothes shops were rare, Yi women needed to make clothes for their family members with needle and thread.
"My mother told me she had brought home a lot of food by embroidering for a wealthy family," Shen said, adding that the delicate works of her mother helped the young lady of the family secure a long-anticipated marriage proposal, as dexterous hands were expected from any Yi woman who looked for a fiance.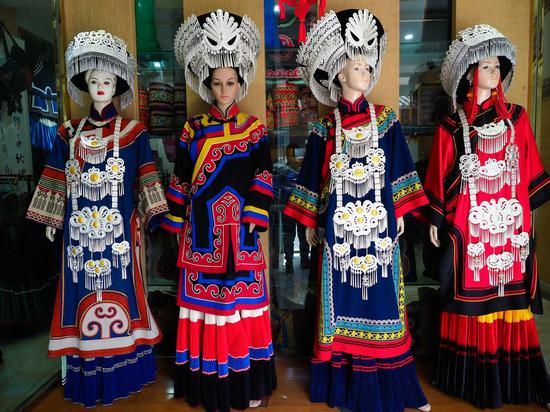 Models wearing Yi costumes in Shen's shop, June 17, 2020. (Xinhua/Wang Di)
Shen has been fond of needlework since she was young. She sewed a pair of cloth shoes and a halter top for her younger brother when she was eight years old. Her own clothes were embroidered with patterns of birds, trees, stars and sheep horns -- inspirations from her life -- which were admired by her neighbors and classmates.
She became even better skilled after a horse kick accident injured her waist and confined her to bed for years during primary school.
"I kept sewing in bed, hoping that I could support myself with my needlework just like my mother, even if I couldn't stand up," she said.
Shen did not sell her works until the late 1980s when a foreign couple found her wearing a beautiful Yi costume in the street and then bought 11 pieces of her designs for 37,000 yuan.
"It's a huge sum of money, considering I earned only 60 yuan every month at that time," she recalled, adding that she was too excited to fall asleep for days.
Her shop was later opened and gradually gained fame, attracting customers ranging from movie stars and lawmakers to ordinary people. She has hired dozens of embroiderers for the expanding business. Some of her workers can earn up to 6,000 yuan monthly.
According to the women's federation of Liangshan, the prefecture has more than 30,000 women embroiderers. One, at an average level, can usually earn 2,000 yuan per month.
"With the money they bring home, women will have a greater say in their family," said Zhu Xuelei, vice president of the federation.