4,000-km bike ride to Tibet with 4-yr-old daughter
2020-07-15 Xinhua Editor:Li Yan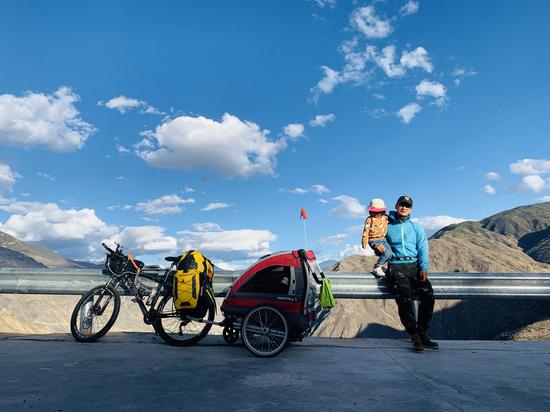 Dou Haobei and his daughter pose for a photo during their bike ride to Tibet, May 18, 2020. (Xinhua)
For Dou Haobei, who runs a clothes shop in south China's Guangdong Province, the outbreak of COVID-19 has offered him a chance to carry his four-year-old daughter to Tibet on a bicycle, a journey that he had long dreamed of.
On one hand, Doudou, which is his daughter's pet name, did not have to go to kindergarten; on the other hand, Dou had few customers to receive.
"I'd rather pick up the dream of cycling to Tibet than sit there idly, playing with my phone all day," said the single father, 26.
It took them 72 days to travel from their home in the city of Dongguan to Lhasa, capital of southwest China's Tibet Autonomous Region, before they returned home by airplane earlier this month.
Dou is a sports lover and rich in outing experience. At the age of 20, he rode a bicycle to Tibet. "Just like what a song has described, every man who has been to Tibet has always expected to return someday," he said.
Dou decided to take his daughter with him, as he believed that nature and the company of parents are the best teachers for children.
Before departure, he bought a bike trailer to put his daughter in, packed enough clothes for four seasons, drafted a detailed route with accommodation plans and prepared necessary medicine as well as snacks and toys for Doudou in case she felt bored on the way. He also bought a drone that was used to take photos of them.
On the journey covering Guangdong, Guangxi, Yunnan and Tibet, they saw golden wheat waves, starry skies and wildlife -- views that were totally different from those near their urban home.
"Doudou had never seen such scenes before. I could feel she was very excited," Dou recalled, adding that he even joined her singing loudly on a starry night at the lakeside of Erhai in Yunnan Province.