Chinese father bikes 2,500 miles in 71 days with 4-year-old daughter
2020-07-06 Editor:Li Yan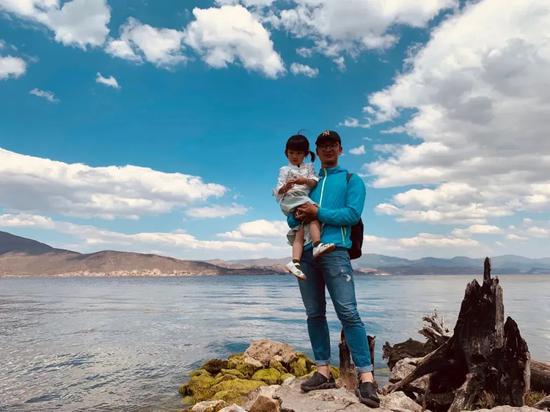 Tou Haobei and his daughter during the trip. (Photo/CCTV News)
Riding 2,500 miles, from southern China's Guangdong Province to southwestern China's Tibet Autonomous Region, a father and daughter pair finished a special birthday experience together.
Tou Haobei and his four-year-old daughter Doudou started the trip in April, when the father decided they needed to spend some time together after she had been out of kindergarten for months due to the pandemic. Tou had already done the trip many times before, but never with his daughter in tow, who followed along in a specially designed trailer attached to his bike.
Tou recorded the trip and posted it on TikTok over the past three months, which earned him over 14 million likes and 1.7 million followers. He called the trip a gift in "strength and persistence," for his daughter.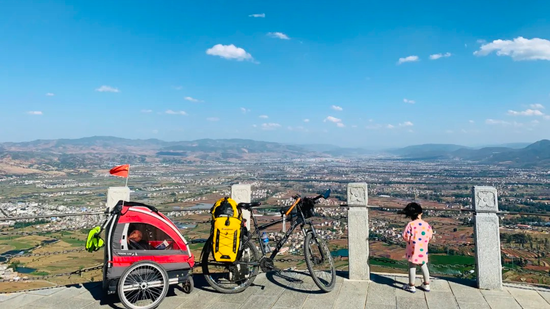 Tou Haobei and his daughter during the trip. (Photo/CCTV News)
Along the way, they visited Erhai Lake in southwestern China's Yunnan Province, rode horses under the Yulong Snow Mountain, and climbed over Dongda Mountain in Tibet which is 5,130 meters above sea level.
"Since our stories have been circulating over the internet, many generous people gave us food and supplies when they met us on the road," Tou said. "And there were drivers who lit up the road behind us at night, which meant a lot to us."
One of their scariest experiences was when they were trapped in the mountains and were too tired to continue biking. However, villagers offered them a place to rest. To express their gratitude, Doudou bought supplies and gave them to children in the remote Tibetan villages.
"I believe this is a promise to my daughter. She will have faith in persistence and strong mindset," said Tou. "Human beings can achieve goals as long as they are determined."
The story of Doudou and her father has inspired many over the internet. "Childhood is short so the company from parents is priceless," said @Toupiaoxiang on Weibo, a Chinese social media platform.