Europe to gradually relax epidemic control measures, while U.S. darkest moment yet to come
2020-05-11 Xinhua Editor:Gu Liping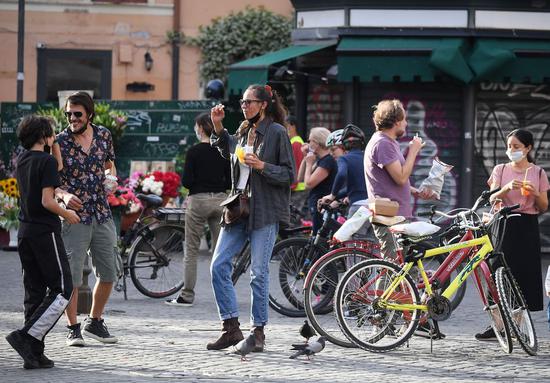 People have aperitif at Campo de Fiori in Rome, Italy, on May 8, 2020. (Photo by Alberto Lingria/Xinhua)
Believing the coronavirus curve has flattened, many European nations are relaxing related control measures, while the United States is yet to face its darkest moment amid economic fallout and with top officials placed in self-quarantine over COVID-19 exposure.
GRADUAL EASING IN EUROPE
Spain, one of the European countries hardest hit by COVID-19, is moving approximately half of the country into the second stage of the four-phase plan to ease lockdown restrictions put in place on March 15 to stop the spread of the coronavirus.
These areas, including the Basque Region, Cantabria and Galicia, will be able to open outside terraces, while shops under 400 square meters can also trade and meetings of up to 10 people within provinces can also be held.
"The virus does not end at the provincial borders. The de-escalation will be guided by the principles of scientific advice and prudence," Prime Minister Pedro Sanchez said Saturday.
On May 4, Italy, another country devastated by the pandemic, relaxed restrictions on productive activities and personal movements for the first time after almost eight weeks.
Overall, some 4.4 million people went back to work, adding to those employed in essential economic sectors -- such as food industry, supermarkets, and transports -- who never stopped during the lockdown that had entered into force on March 10.
Companies in manufacturing, construction, and wholesale sectors could resume work, provided they ensure strict compliance with workplace safety protocols.
British Prime Minister Boris Johnson unveiled a lockdown exit roadmap on Sunday. "We now need to stress that anyone who cannot work from home -- for instance, those in construction or manufacturing -- should be actively encouraged to go to work."
From Wednesday, the government wants to "encourage people to take more and even unlimited amounts of outdoor exercise," he said.
France, Denmark, Germany and other European countries have also relaxed their lockdown measures at least partially.
U.S. DARKEST MOMENT
The United States has yet to deal with an economy badly hit by COVID-19 and pressure to prevent the spread of the virus with several top officials in self-quarantine.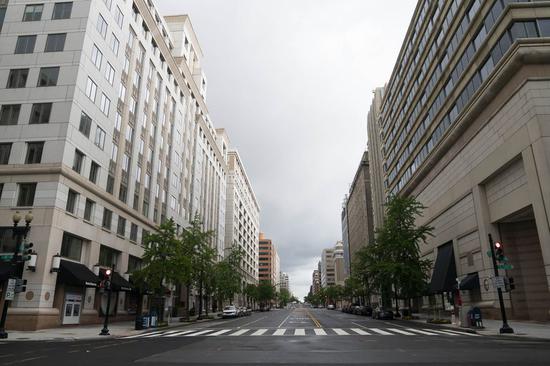 Photo taken on May 6, 2020 shows an empty street in Washington D.C., the United States. (Xinhua/Liu Jie)
U.S. employers cut a staggering 20.5 million jobs in April, according to data released Friday by the Bureau of Labor Statistics.
U.S. Treasury Secretary Steven Mnuchin said the unemployment numbers are probably "going to get worse before they get better," acknowledging that the current jobless rate may have already hit 25 percent, Fox News reported Sunday.
Later on Sunday, Neel Kashkari, president of the Federal Reserve Bank of Minneapolis, told ABC's "This Week" that "the worst is yet to come on the job front."
"To solve the economy, we must solve the virus. Let's never lose sight of that fact," he said.
"What I've learned in the last few months, unfortunately, this is more likely to be a slow, more gradual recovery," Kashkari said, throwing cold water on White House officials' optimistic expectation about a very strong second half of 2020 and a roaring 2021.
The prospect seems to become more obscure as several top U.S. officials have been put in quarantine after contact with confirmed COVID-19 cases.
Vice President Mike Pence, who leads the White House Coronavirus Task Force, has been distancing himself from others after his press secretary, Katie Miller, tested positive for the coronavirus on Thursday, U.S. media reported Sunday.
Earlier, Anthony Fauci, director of the National Institute of Allergy and Infectious Diseases; Robert Redfield, director of the Centers for Disease Control and Prevention; Stephen Hahn, commissioner of the Food and Drug Administration -- all key members of the White House coronavirus task force -- have begun self-quarantine for two weeks after contact with a person who has tested positive for the coronavirus, according to U.S. media reports on Saturday.
Kashkari noted that a "robust economy" would require a breakthrough in vaccines, widespread testing and therapies to give people confidence that it is safe to go back.
"I don't know when we're going to have that confidence," the Fed official said. Enditem