'You are not alone!' Worldwide wishes sent to coronavirus fighters
2020-02-06 Xinhua Editor:Li Yan
By the end of Tuesday, the overall confirmed coronavirus cases on the Chinese mainland had reached 24,324, while a total of 490 people had died of the disease.
As doctors, nurses and others are fighting against the virus, people all over the world are sending through social media platforms their best wishes of a soon victory over the virus, as well as the overall recovery from the suffering.
Among thousands of kind and touching words, the following are some that we would like to share with you: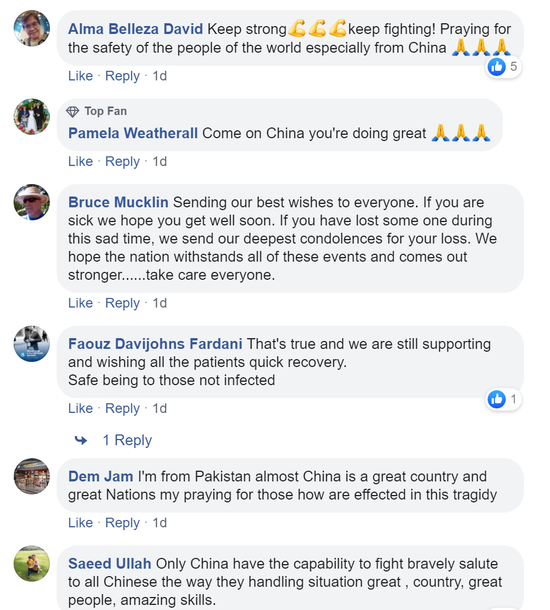 Christopher Scarzo: Brave people, our thoughts are with the Chinese republic in this most crucial time.
Adela Ortega: You are not alone. We stand with you. May the Universe and Earth take care of all of us.
Sameer Shah: The virus can be an alarming thing and mega disaster for whole world but how Chinese tackle it and fight it is more than awesome. Hence proved that they're a great and hardworking nation.
Ali Ahmed: This is the time of unity with China people because they are also human being.
Phillip Miller: You are not alone. Even though you may think so, the world is behind you. We are all hoping and praying that a cure is found quickly and all your lives can get back to normal.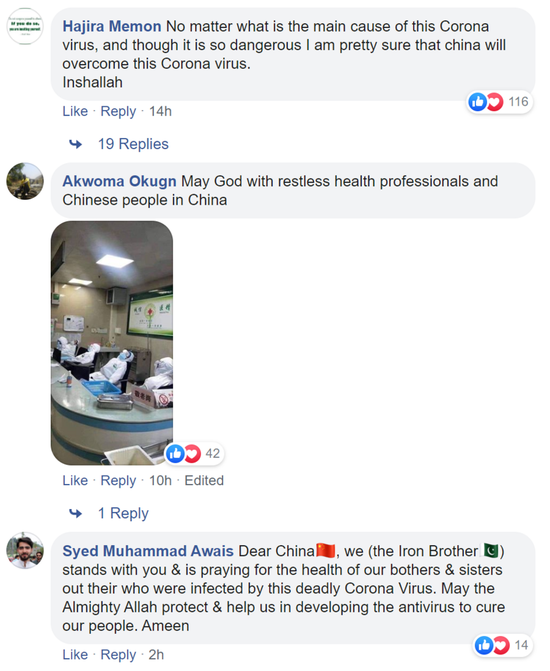 Lyn de Leon: You are the heroes in this time of trouble. I salute all of you! The world is with you in this battle. God bless China and its people.
Douglas Woodham: We in the UK stand with you and hope and pray you keep safe and come through this in flying colours. all keep safe. we are thinking of you all, and all the medical staff great job. you all deserve to be recognise by the world. all stay safe
Terry Smith: This is what humans do in times of danger and death. Taking care of the sick is who you are. Remember that always.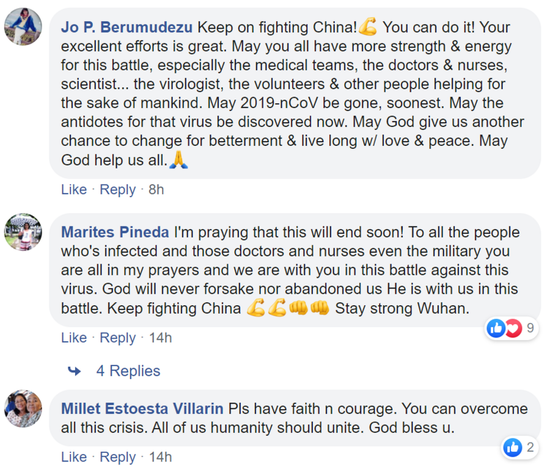 Sa Nemah: Inspiring to see people in China are united,has strong NATIONALISM especially in times of Crisis. #StandStrongerChina #GodBlessTheChineseMedicalTeam
Roy Mo: Hats off to the beautiful solidarity of the people in managing the disease in a superb efficient and organizing means.
Satee Ramrekha: Continue to be very brave and to stay positive. There is always sunshine after a storm. My love is with you all.