Deliverymen hold the fort amid epidemic outbreak
2020-02-04 Xinhua Editor:Li Yan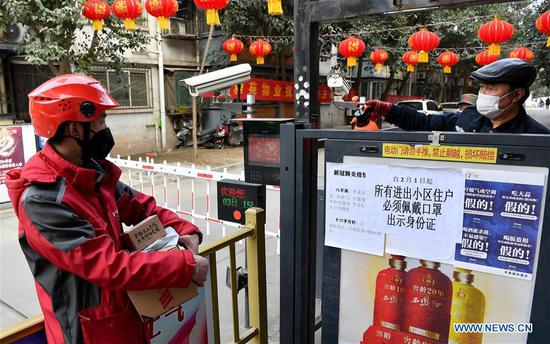 Xu Guobin enters a compound in Xi'an, northwest China's Shaanxi Province, Feb. 3, 2020. Deliveryman Xu Guobin has continued to work during the Spring Festival holidays for straight 12 days. Influenced by the outbreak of novel coronavirus, Xu has to deliver packages three times more than the last years. When asked if he was worried about being infected, Xu responded by saying that although he had such concern, what he could do was to well protect himself while delivering packages to the people who needed them. (Xinhua/Liu Xiao)
Rather than cold and cheerless as in previous years, warehouses of e-commerce companies are packed with groceries that are ready to be delivered to thousands of households across numerous cities, as residents are advised to stay at home for epidemic control during this year's Spring Festival holiday.
While most of the city is still asleep, deliveryman Xu Guobin, 31, along with his colleagues of a logistics center in the northwestern city of Xi'an, have started their busy day at 6:30 in the morning.
"I'm still getting used to wearing a mask throughout the day. I sometimes think it hides my good looks," said Xu jokingly, with the mask covering over half of his face.
Xu and his colleagues have been told to "fully protect themselves" before leaving the disinfectant-smelling warehouse to make their deliveries, such as taking their temperature several times a day and wearing the protective masks their company has supplied.
Staff safety should come first at this time, said Kong Lingjie, head of the JD logistics center that Xu works for.
Kong said the center has seen record purchases and orders during this year's Spring Festival. Since the beginning of the holiday, many of his colleagues have held the fort to deal with the soaring business.
JD.com, one of China's leading online shopping platforms, saw its turnover in grain and edible oil increase to 15 times the level from the previous year. The turnover of instant food grew more than tenfold and that of dairy products rose by 300 percent. The demand for bottled water also soared.
Most packages are left in the delivery lockers across neighborhoods these days, said Xu. "We used to deliver the packages to customers at the door personally, but it's now better and safer to avoid meeting so many people."
Before the festival, Xu brought his wife and six-year-old son to Xi'an for a family gathering. "The very first thing I do after returning home at the end of the day is to disinfect my coat and shoes. I have to take good care of my family."
Xu said he missed the bustling streets and the crowded city, though he believes "things will definitely get better."