A day of panda keeper
2020-02-03 Xinhua Editor:Li Yan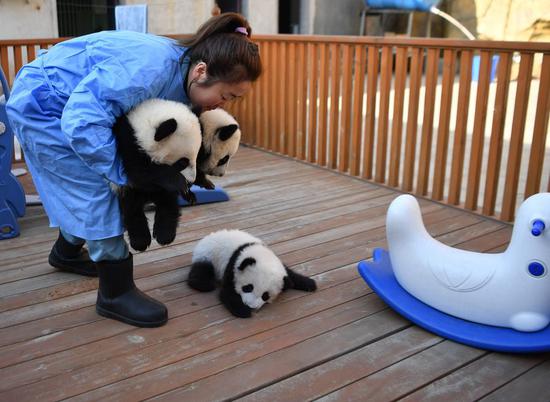 A keeper plays with giant panda cubs at the "Giant Panda Kindergarten" in Qinling Research Base of Giant Panda Breeding of Shaanxi Academy of Forestry in Xi'an, northwest China's Shaanxi Province, Dec. 3, 2019. Three giant panda babies born this year are taken good care of by mother giant pandas and keepers at the "Giant Panda Kindergarten". (Xinhua/Zhang Bowen)
On a winter morning in the quiet, vast Qinling Mountains, Sun Mingwei carries bamboo in the bitter cold to panda enclosures.
Sun is a "panda keeper" at the Qinling research center of giant panda breeding in northwest China's Shaanxi Province.
Each day, Sun cleans the pandas' outdoor grounds and cages, brings them bamboo and feeds them.
An adult panda can eat up to 50 kg of bamboo a day, so it requires the keepers to work laboriously to load the food, causing a lot of distress to their backs.
"I like feeding animals, and I find pleasure in seeing the pandas enjoying their meals and having fun," said Sun.