Father and son ticket inspectors work Spring Festival travel rush
2020-01-22 chinadaily.com.cn Editor:Mo Hong'e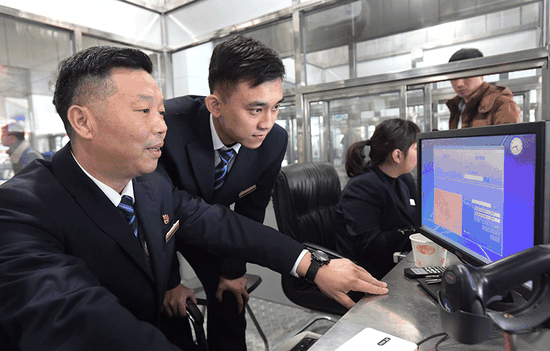 5e26c2caa3101282064d4879
The upcoming Spring Festival is traditionally the best time for family reunion, but not for Lin Cheng and his son, who are tickets inspectors.
They need to report to the train station for their duty shifts in this annual travel rush.
Both have worked as ticket inspectors at Fuzhou Railway Station in East China's Fujian province for years, and are experiencing the peak period of the Spring Festival travel rush, which lasts from Jan 10 to Feb 18.
Before passengers enter the station, the inspectors check their identities and ticket information, and then stamp the tickets for 24 hours.
"To drink less, move less and take more lozenges" is the father and son's slogan, who choose to stay at work as long as possible so that more people can board the train smoothly.
"Since passengers will surge during the Spring Festival travel rush, we have to be highly concentrated on the work to improve the efficiency of getting them on board," Lin Huangcheng said in a tired voice.
Lin Cheng, who has worked the Spring Festival travel rush for 30 years, says it's often difficult to move his arm after stamping tickets over 10,000 times a day.
According to Lin Cheng, his father was a maintenance worker on the railway. He remembers a simple meal of reunion before the Spring Festival was the happiest time of all.
"Although I will be on my duty on Spring Festival Eve, I am happy to see more people who won't miss their reunion meal because of our work," Lin Cheng said.