'I never get bored watching the giant pandas!'
2019-10-21 09:55:28 Xinhua Mo Hong'e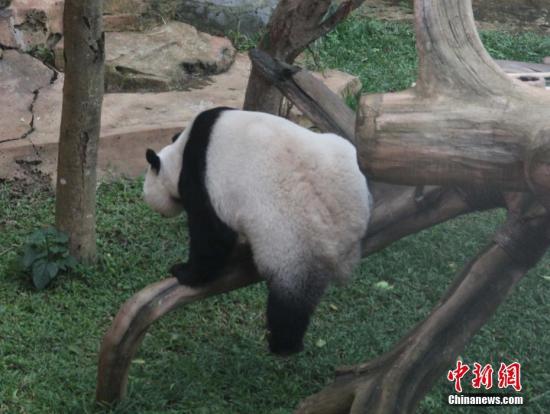 Photo taken on Nov. 18, 2017 shows the giant panda Cai Tao plays in Taman Safari Indonesia in Bogor, West Java. (File photo/China News Service)
by Abu Hanifah
"This is my third time to watch pandas here. I never get bored watching the cute animals, they are so cute when they are rolling over or eating bamboo in different ways. I would like to watch them do that over and over again," 12-year-old Novita Wardani told Xinhua after watching Cai Tao and Hu Chun, two Chinese giant pandas currently living in Taman Safari Indonesia in Bogor, West Java.
Watching enthusiastically the pandas in the neatly-arranged enclosure, Wardani said that panda is her most favorite animal to watch in the safari.
Exclusively built on a ground 1,400 meters above sea level, the Chinese architectural-themed Istana Panda is Cai Tao and Hu Chun's home in Indonesian West Java province's Bogor regency, about 75 kilometers south of Jakarta. According to park Director Tony Sumampau, the height is to ensure that the two giant pandas can enjoy a cool temperature without air-conditioning, in much resemblance to the weather of their hometown -- China's Sichuan province.
The safari provides all-wheel drive buses to transport visitors to Istana Panda. Visitors can see bamboo plants along the one-kilometer steeply upward road to the panda exhibit.
Inside the premise, Hu Chun was gnawing a bamboo branch. As a girl, her table manners were very good, as she was eating slowly and gracefully. Shortly after, Cai Tao, the boy-panda appeared. He was much more feisty, as he was "rolling" around like a furball, sometimes eating some bamboos, sometimes drinking some water, and sometimes climbing some trees. Their cute postures caught the eyes of all childrens around, with them laughing and taking pictures with the pandas in excitement all the time.
Leading a group of families from Central Java province, Rio Wicaksono said that all families in the group brushed aside other destination options and chose to watch the giant pandas in the safari due to their curiosity and the animal's distinctive characters.
"We all came for the first time here to see panda which has never been shown in any other place in the country before. This is just the right place for families to spend their holidays and, at the same time, educate their children about pandas, about where they originally came from," he told Xinhua.
Everyone in his group was excited to see the pandas as they apparently looked and behaved like a cartoon character they watched in a movie. "They are adorable animals and apparently agile despite their fat posture, like in 'Kung Fu Panda'," a father in his 30s said.
Besides the panda exhibit, Istana Panda premises is also featured with restaurants, panda educational sections and several facilities to support the pandas' livelihood, including a laboratory, a medical room and panda dietary processing facilities.
In 2018, Taman Safari Indonesia received three awards of the Giant Panda Global Award (GPGA), namely the favorite panda outside of China for Cai Tao, the most educational panda zoo enclosure for the safari, and the favorite panda zoo restaurant for the safari.
Director Sumampau said that the efforts to breed panda are still underway. "Our efforts to breed panda were yet to be successful last year and this year. We will try the natural way again during their mating season next year."
"Artificial insemination would be the last way to breed panda. We hope they can deliver cubs no later than in the fifth year since their presence here," he added.
Cai Tao and Hu Chun arrived in Indonesia in September 2017 under a 10-year breeding loan agreement with the Chinese government.
The Indonesia Safari Park has profound animal conservatory experiences as it has been successful in breeding exotic or endangered animals such as the Sumatran tiger, Bali starling bird and orangutan. Many animals bred from the safari park have been released to their original habitat in the wild.