Shoppers ready for brick-and-mortar 2.0
2020-09-10 China Daily Editor:Gu Liping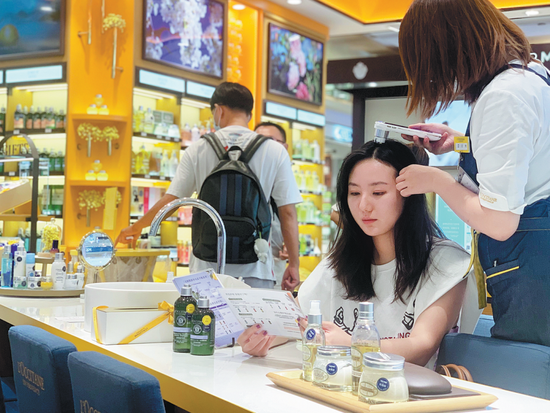 A customer experiences haircare service at a L'Occitane store in Shanghai in September. CHINA DAILY
Post-pandemic, younger consumers in particular are showing signs of nostalgia for face-to-face interactions
When the Greek philosopher Aristotle posited "Man is by nature a social animal", he certainly couldn't have foreseen the COVID-19 pandemic that would traumatize the world and keep billions locked indoors over two millennia later.
But as many Chinese cities are moving from the reeling reality of the pandemic to the more sublime pleasures of parties and plazas, such an assertion holds true more than ever.
As nightclubs cautiously reopen their doors and cinemas gradually reaccommodate a growing number of moviegoers, traditional retailers are hopeful that the desire for face-to-face experiences will give their offline businesses a substantial legup following months of social distancing.
In July, United Kingdom luxury house Burberry opened the first-of-its-kind social retail store in Shenzhen, Guangdong province, claiming to blend physical and social worlds with a suite of digital technologies powered by Chinese internet giant Tencent.
Through a dedicated mini program backed by WeChat-Tencent's iconic messaging app-customers can unlock exclusive content on the fashion brand and personalized experiences, and then share them with their virtual communities.
Users can also book outfit tryout sessions via the app.
Josie Zhang, president of Burberry China, said the 539 square-meter store represents the brand's ambitions to target a Chinese audience with a growing penchant for socializing and immersive experiences.
"China is definitely a highly dynamic market for luxury brands. Growth momentum is largely seen coming from the country," Zhang said. "With the younger Generation Z consumers shaping up to be the backbone for luxury brands, their desire for socializing, interaction and sharing are propelling us to delve into the realm of social retail."
The mini program is designed as a digital companion. As long as customers walk into the store, they stand to access features such as store tours and product information. It also offers access to dedicated client services, in-store appointment bookings, events and table reservations in the in-store cafe.
"By connecting social and retail environments, we will create innovative digital services and delightful experiences for our users, help brands build deep emotional connections with consumers and support the laying of strong foundations for long-term brand growth," said Davis Lin, senior vice-president at Tencent, who is in charge of the company's smart retail strategy.
Another concept introduced by the tie-up is "social currency"-a mechanism encouraging customers to spend more time navigating experiences in a mini program. Zhang said the more a user engages with the brand, the more likely he or she is to receive rewards for cafe items and unlocking personalized mini program content regarding particular brands.
Burberry's endeavor is an epitome of the so-called New Retail concept.
Research consultancy Bain&Co recently said that between 2014 and 2019, the compound annual growth rate for Asia Pacific retail sales was more than quadruple that of the rest of the world.
The interplay between online and offline sales is reinventing the entire retail landscape, where physical stores should adapt themselves to truly become "showrooms for more involved purchases", said Jonathan Cheng, partner and head of Greater China Retail practice at Bain&Co.
"Especially as COVID has hastened the sales migration from offline to online, stores will need to change roles as well as formats, contributing to a more seamless omnichannel whole," Cheng said.
While maintaining an active presence in the online sphere, French cosmetics brand L'Occitane en Provence has spared no effort in pampering its customers with a suite of offline personal care services.
With online, telephone or even walk-in bookings, customers stand to enjoy an exclusive 15-20 minutes' full-service regimen, all free of charge.
During the process, a portfolio of products from the brand's hair diagnostic services-from its latest haircare products to a variety of body and face-care products-are available to customers based on their respective conditions.
"While e-commerce is clearly under the spotlight, a typical retail brand simply cannot afford to ignore face-to-face communication opportunities with consumers," said Queenie Lin, managing director of L'Occitane China.
Citing a survey which tracks customers' evolving perceptions of beauty brands, Lin said up to 15 high-end beauty brands today are immediately recognizable in people's minds, as opposed to just seven to eight almost a decade ago.
"Just because consumers are bombarded with so many choices, and the younger generation has plentiful access to information, 'experience' is now shaping up to become the true differentiator," she said.
Lin said there are some underlying correlations between experience-driven commerce and a sales boost. "As brands, we deliver relevant experiences to the right person at the right time. Through social interactions, whether customers increase fondness for our brand or make inquiries into other products-in either case they can potentially drive sales."
Other endeavors to enhance customer loyalty include an empty bottle recycling program launched late last year. Customers are encouraged to bring empty L'Occitane packaging to offline stores after which the company rewards them with sample products and bonus points that can be used to purchase goods.
Many have essentially shifted from buying daily necessities to paying for exclusiveness, so the concept of service has expanded from the act of purchasing to now satiating people's desire for urgency and privilege, Lin added.
"We are indeed seeing the element of social interactions and service as defining elements in the retail gameplay," she said.
Growth of physical space is still key for retailers for the purpose of omnichannel needs, such as fulfillment and showrooms, said Bain's Cheng. In the Asia Pacific region, only retailers in Australia and Japan (and to a lesser extent South Korea) have built out their physical store networks as extensively as their counterparts in the US and Western Europe.
"More stores need to adapt the role of these stores to support omnichannel needs, as showrooms, hubs or fulfillment," he said.
Xintiandi Plaza, a commercial property in downtown Shanghai developed by Shui On Land, has taken one step further-enhancing connections with consumers.
Its latest social endeavor is to host World Music Asia, an eight-day music gala scheduled between Oct 1 to Oct 8 in seven locations across China. The extravaganza is expected to see 37 bands perform in the first major offline music festival since the COVID-19 outbreak.
"As shoppers pursue cultural and spiritual consumption, they have exhibited a stronger desire for social experiences," said Zhang Bin, executive director of Shui On Land and China Xintiandi.
"We regard music as a natural fabric connecting people, thus injecting impetus to the offline commerce and driving consumption."
While a lot of goods in its store displays can be purchased online as well, it has debuted a talk show studio as its latest attempt to tap into the surging "shoppertainment "fashion.
The introduction of FunFactory, which hosts live talk shows popular with younger consumers, is the latest addition of social elements to the iconic Xintiandi complex, said Chen Chun, director of commercial property oversight and also head of the content innovation department at Xintiandi.
"Following coronavirus-related lockdowns, the dominant sentiment of shoppers boils down to a sense of being 'reborn'," Chen said.
"What we aim for is to harness people's needs to combine spatial experiences with consumption, which constitutes a core pillar for business revival and the sustainable development of commercial spaces."
Over 90 percent of Shui On-operated lands in Shanghai have now resumed business activity, Chen said, adding that two malls had even registered up to 20 percent year-on-year growth during a promotional campaign in July.
The Xintiandi Plaza operates Social House-a multifunctional social space infused with the concept of New Retail, or the transition of online to offline shopping using a variety of technologies.
To quench a growing thirst for an immersive shopping experiences, Chen said the mall is incorporating elements like design, social activities and gourmet offerings which serve to "reinvigorate the interplay among people, product and place".
Chen saw the silver lining of the pandemic to be 'propelling business entities to resort to digital capabilities, interpret data and make faster and more accurate decisions.
"Customers are no longer categorized in traditional categories like age or profession but the true 'social circles' they belong to," she said. "The trove of data is critical to constructing content and marketing to make our offerings unique."