What to expect at the 2020 China Int'l Fair for Trade in Services?
2020-08-31 CGTN Editor:Gu Liping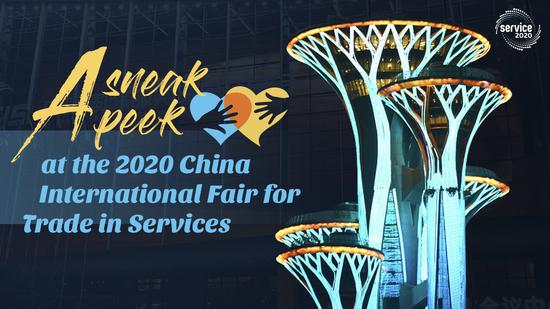 With colorful banners flying in the air and posters hanging on the wall at the China National Convention Center's main pavilion, Beijing is gearing up to launch the 2020 China International Fair for Trade in Services (CIFTIS) from September 3 to 7.
The ninth edition of the annual event will see more than 2,000 domestic and foreign companies showcasing their latest products and services.
A total of 141 international organizations, various embassies based in China, chambers of commerce, business associations and institutions have confirmed their participation for the event, during which four summit forums, such as 5G Communication Services Forum, as well as over 100 seminars and discussions, are set to be held.
The five-day event is featuring diverse online and on-site activities due to the impact of the coronavirus pandemic with most of overseas guests and exhibitors to participate in the digital programs like virtual exhibitions and online forums.
A slew of stringent COVID-19 confinement measures, including disinfection and social distancing rules, have been taken and planned to ensure the health and safety of visitors, exhibitors, and staff, said the organizers.
More diversified programs and services
This year's CIFTIS will present more diversified programs and services compared with the previous sessions as it has integrated contents of China (Beijing) International Cultural &Creative Industry Expo (ICCIE), China International Tourism Commodities Fair (CITCF), Beijing International Finance Expo (BIFE), World Winter Sports (Beijing) Expo as well as World Robot Conference (WRC) to create a new model that features various exhibition themes.
The event, covering an area of about 200,000 square meters, consists of one comprehensive exhibition hall, eight thematic exhibition halls and several functional service areas.
The vast exhibition hall includes the public health and epidemic prevention zone, the national, provincial, regional and municipal zones, and the enterprise zone for 12 major service trade fields, displaying the latest trends, technologies, products in the development of domestic and foreign service trade.
Exhibitions would be based on eight themes featuring cultural services, financial services, winter sports, tourism services, service robots, educational services, sports services, and 5G communication services.
A few functional service areas will be established in exhibition space to provide support services for exhibitors for activities such as negotiation, experience and catering.
A digital platform for the fair launched on June 16, uses the most cutting-edge technologies such as artificial intelligence (AI), big data, 5G network, and virtual reality (VR) to provide better online services to exhibitors from around the world amid the pandemic.
Brand new experience
During the five-day fair, visitors will enjoy the brand new experience through a series of creative activities with the aid of advanced techniques, such as 5G network and VR.
Numerous Beijing's bookstores, including some time-honored brands and new names such as China's first map-themed bookstore that opened in last December, will make their debuts in the exhibition hall of cultural services, where some prestigious international book fairs in Germany, Britain and the U.S are set to hold promotion and exchange activities.
The technology will help visitors not only read but also see or even experience the stories published in various books. A special exhibition zone that showcases new reading experience supported by 5G network is expected to draw large crowds.
3D modeling techniques would show panoramic landscapes of traditional Chinese paintings in this zone, allowing readers to walk into the paintings and travel through them. Through a 360-dimensional screen, they can also have a "fully immersive" experience of the imaginative scenes in renowned author Liu Cixin's latest sci-fi novels.
This year's Beijing International Children's Book Fair, titled "Open the Book, See the World" is running under the CIFTIS for the first time, presenting series of interactive activities, as well as larger-than-life pop-up books of the "Harry Potter" franchise in celebration of the 20th anniversary of its landing in China.
Additionally, the fair will feature virtual 3D exhibition booths and VR games to provide more intelligent experience for visitors.
What is the CIFTIS?
Launched in 2012, the China International Fair for Trade in Services, formerly known as China (Beijing) International Fair for Trade in Services, took its new name in 2019 with its abbreviated name was changed from "Beijing Fair" to "CIFTIS" earlier this year.
The CIFTIS (including the former Beijing Fair), which has run six editions, has attracted a total of nearly 300 international organizations and overseas business associations and more than 10,000 companies from 184 countries and regions so far, achieving an accumulated intended transaction amount of 529.33 billion dollars.
It is ranked as one of the three major exhibition platforms for China's opening-up, along with the China Import and Export Fair (Canton Fair) and China International Import Expo (CIIE).