Excavated bamboo slips tell evolution of Chinese reading habits
2022-05-18 Xinhua Editor:Li Yan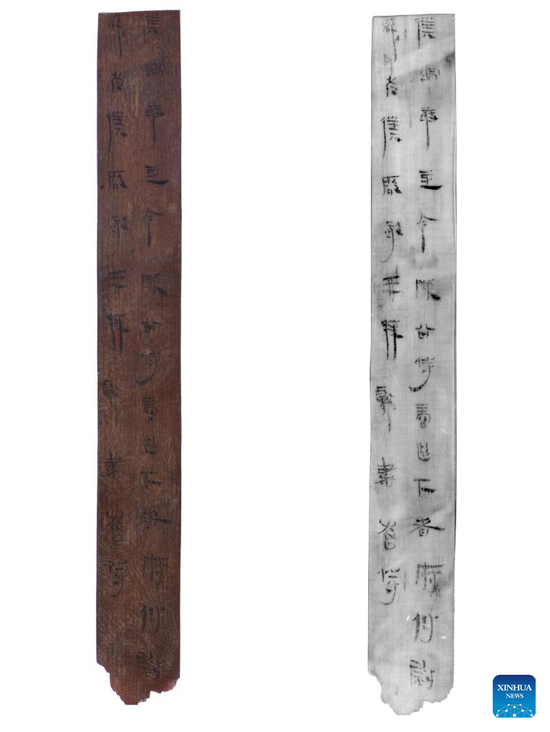 Undated combo photo shows one bamboo slip (L) found at the Tuzishan relics site in the city of Yiyang, central China's Hunan Province, and its infrared photo (R). (Hunan provincial cultural relics and archaeology research institute/Handout via Xinhua)
Six bamboo slips unearthed at an excavation site in central China's Hunan Province shed light on the history and evolution of Chinese reading habits, according to local archeologists.
The slips, found at the Tuzishan relics site in the city of Yiyang, date back around 2,000 years to the early Western Han Dynasty (202 BC- 25 AD). Since the excavation in 2013, Zhang Chunlong, head of the excavation team, has been conducting systematic research on the slips and disclosed the research findings recently.
Zhang said records of people discussing 'offering books' were found on these bamboo slips, indicating that a ban on the private collection of books first initiated in the Qin Dynasty (221 BC- 207 BC) had been lifted.
"As evidenced by the bamboo slips, we can see that after the ban was lifted, borrowing, giving and collecting books became a social trend," Zhang said.
"Later, both the royal family and local governments amassed an unprecedentedly rich collection of books. More people read books and libraries began to emerge during the Western Han Dynasty," he added.
Following a series of conservation processes, the cleaned bamboo slips have been archived for research and exhibitions.