Chinese craftsman paints the picture of the world in tiny bottles
2021-09-06 Xinhua Editor:Wang Yifan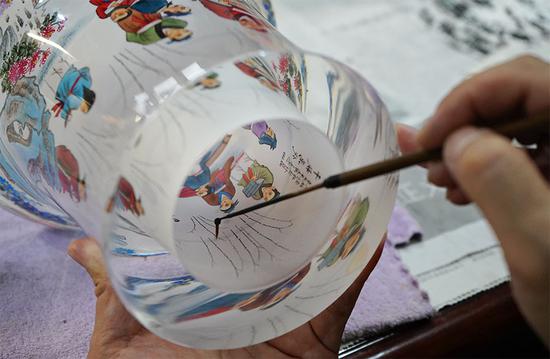 Wang Ziyong creates inside painting work on the inside surface of a snuff bottle at a museum featuring inside paintings in Taocheng District of Hengshui City, north China's Hebei Province, Sept. 4, 2021. (Xinhua/Jin Haoyuan)
Inside painting, or inner painting, is a Chinese art form. It involves tiny snuff bottles which have pictures and calligraphy painted on the inside surface of the bottle.
Snuff bottle paintings are produced by manipulating a specialized brush through the neck of the bottle, which requires absolute precision from the artist. Often made of special materials such as jade, crystal and amber, crafting an inside painting in the snuff bottle requires considerable skill and imagination, as the process of painting is totally reversed.
Wang Ziyong, an inside painting craftsman, studied inside painting with his father Wang Ruicheng since childhood. After graduating from college, Wang returned to Hengshui City and devoted himself to the artwork. Thanks to years of practice, he quickly developed his own style.
In order to better paint highlights and handle details, Wang developed a new type of brush, which improved the drawing efficiency.
In 1995, he gave up the traditional workshop-style production mode of inside painting and established a modern enterprise, integrating development, design, production, processing, and sales.
In 2003, with the help of his father, Wang found a museum in Hebei featuring inside paintings.
In 2006, inside painting was added to the list of national intangible cultural heritages.
"I hope more people can feel the charm of Hengshui inside painting in the future," Wang said.