Modern colors brighten up ancient city
2021-06-18 China Daily Editor:Mo Hong'e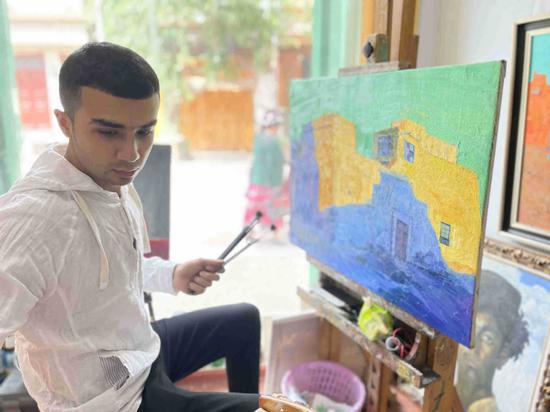 Mamattursunjan Mamtimin creates a painting in his studio in the Ancient City of Kashgar, Xinjiang Uygur autonomous region. (XING WEN/CHINA DAILY)
Young Kashgar artist paints hometown with mixed interpretation of old and new
Umber, ocher yellow and sienna are the dominant colors of the Ancient City of Kashgar, a rammed-earth building complex in the Xinjiang Uygur autonomous region that can trace its origins back 2,000 years.
However, green, red, blue, orange and other vibrant colors are typical of the 25-year-old painter Mamattursunjan Mamtimin's palette when he portrays the intersecting alleyways and mazelike blocks of the ancient city.
"I used to follow the figurative style of many other local painters, who tend to use earth tones when drawing ancient city views. But now I've changed my ideas. It's time for the young generation to make some changes and be more expressive in creating artworks," said Mamattursunjan.
The young painter grew up in Xinjiang's Kashgar prefecture and went to Xinjiang Normal University in Urumqi, the regional capital, to study art in 2016.
During his university years, he traveled to Beijing, Shanghai, Xi'an in Shaanxi province, Jiuquan in Gansu province and other cities, where he visited museums and galleries and conducted exchanges with arts teachers and students.
He was then inspired by his travels to use bold colors and compositions, interpreting his hometown with a touch of modernity and vitality.
What has changed in recent years is not just Mamattursunjan's ideas of painting, but the ancient city where he often hung around during his childhood.
A total of 7 billion yuan ($1.1 billion) was invested in 2010, mainly by national, regional and city governments, to renovate the ancient city, upgrading its basic infrastructure and reinforcing time-honored buildings while maintaining the traditional Uygur architectural style.
Five years later, the scenic spot of the Ancient City of Kashgar, which covers 4.25 square kilometers, was designated a national 5A tourism attraction.
Mamattursunjan — who started to follow his primary school art teachers by sketching views of the ancient city's streets and lanes at the age of 10 — has witnessed how the surroundings have been freshened up by the renovation and is willing to embrace the changes.
After graduating from the Art Institute of Xinjiang Normal University last year, he decided to go back to Kashgar, and with classmate Abduqeyum Abdukeram, who grew up in Kashgar's Shule county, he opened an art studio there.
"We've heard that the Ancient City of Kashgar had plans to create an Oil Painting Street lined with art studios, galleries and workshops. Therefore, we chose to locate our studio on the street," said Mamattursunjan.
Oil Painting Street boasts more than 40 art studios, galleries and workshops, giving local artists exposure to large groups of tourists who could also be potential customers.
"Sometimes, we can sell four paintings in a single week," said Abduqeyum.
Kashgar received more than 6.1 million domestic tourists during the first five months of this year, up 50.2 percent year-on-year, and revenue generated by its tourism industry during the period reached nearly 4.6 billion yuan, a year-on-year growth of 30.1 percent.
The booming tourism industry in the Ancient City of Kashgar has also enabled Mamattursunjan and Abduqeyum to network with visitors from home and abroad and conduct exchanges with people from different cultural backgrounds.
"Oil Painting Street has attracted domestic and foreign tourists, some of whom are also adept at painting. We benefit a lot by talking to them," Mamattursunjan said, adding that early in May, a Ukrainian visitor who came to tour the ancient city purchased several of his paintings.
He also noticed that an increasing number of young people, who once wanted to migrate to fashionable cities outside Xinjiang, have become more willing to stay.
"The ancient city is becoming more attractive for us young people," he said. "We've got night houses, cafes and many other fancy shops here. It's a harmonious mix of ancient culture and modern elements."