'Elephant dads' forge bond with animals
2021-06-15 China Daily Editor:Mo Hong'e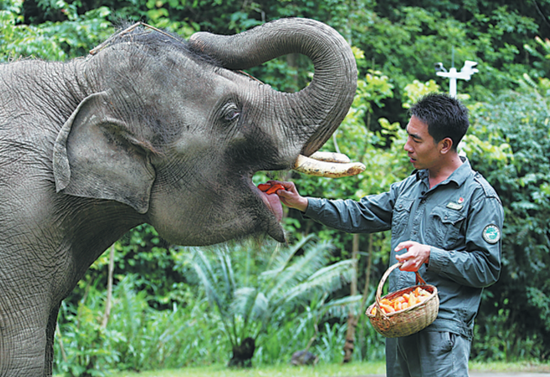 Xiong Chaoyong checks the teeth of a young elephant at the Asian Elephant Breeding and Rescue Center in Xishuangbanna, Yunnan province, on Saturday. (WANG JING/CHINA DAILY)
Xiong Chaoyong is a dad not only to his 10-year-old daughter, but also to an 18-year-old Asian elephant called Ranran.
Xiong, 39, has been working as an elephant caretaker for 13 years at the Asian Elephant Breeding and Rescue Center in Xishuangbanna, Yunnan province. He and another 25 people working at the center are known as "elephant dads" for their years of dedication to rescuing and looking after wild Asian elephants that have been abandoned by their herds or injured.
The center, the only research institute in China that focuses on Asian elephant rescue and breeding, has rescued 24 elephants since its establishment in 2008.
Every morning starting at 8 am, these "dads" check the elephants' urine and feces and measure their body temperature before guiding the animals into the forests for wilderness survival training.
Xiong became interested in elephants when he was a child. He saw movies in which people traveling in Southeast Asia would roam in tropical rainforests while sitting on the back of elephants.
"I found elephants such mighty animals and developed a very strong affection for them," he said.
In 2005, he learned from his brother, who worked at a safari park, that an elephant had been seriously injured. So he joined the other 80 members of the rescue team and went to Xishuangbanna, where he met Ranran for the first time.
"I almost burst into tears when I saw Ranran. I had never seen such a serious injury on an elephant," Xiong recalled.
Ranran's left hind foot had a wound that was about 20 centimeters wide and had festered badly due to infection. She was also so skinny that her ribs were protruding, and she struggled violently when people tried to approach her.
The rescue team calmed her down with anesthesia. However, for a long time Ranran refused to cooperate with the treatment, so her condition did not improve. Some experts said there was no hope for her survival, and they proposed euthanizing her.
"We did not give our consent. We as humans had no right to make the decision for her. We only had the obligation and right to rescue her," Xiong said.
Following the advice of traditional Chinese medicine practitioners, Xiong began using Yunnan Baiyao, a local TCM formula for healing wounds, and pu'er tea, which is believed to have an anti-inflammatory effect. After nearly half a year of efforts, Ranran finally began to improve.
Xiong said he still remembers how, seven days after his first contact with Ranran, he released her from her chains and the elephant charged at him, trying to hit him with her head and press him into a corner.
Xiong managed to escape but continued to tremble afterward.
"This was not a reason to give up. I understood she had suffered too much," he said. "Treating an elephant requires lots of patience-much more patience than treating your own child."
In the following months, Xiong accompanied Ranran all the time, feeding her, talking with her and singing to her. He even moved his bed to a makeshift shed and watched over her at night. Because of Xishuangbanna's tropical climate, the area is always hit by heavy rain and thunder. Whenever Ranran was frightened by the thunder and began to roar, he would run up next to her, touch her gently and talk to her to help her calm down.
Over the years, Xiong treated Ranran as his own child. Their connection built up to a point where Ranran followed Xiong wherever he went. On a rainy day in 2010, Xiong and Ranran walked side by side on a mountain. Xiong accidentally slipped, and just as he was about to fall, Ranran extended her trunk to steady him.
"Elephants are indeed intelligent animals. However good you are to them, they will repay you twice as much," he said.
After Ranran's full recovery, Xiong began to train her survival skills by taking her into the rainforest during the day, releasing her, and then finding her and bringing her home at night.
The ultimate goal is to return the elephants to the wild.
Like Xiong, every "elephant dad" in the center can tell the story of each elephant they rescued. Xiaoqiang, for example, was found wandering alone by a river. Orphaned when only a few months old, he was rejected by all three herds he tried to join, and suffered from diarrhea and parasites in his stomach.
Yangniu was only a month old when she was discovered by local farmers. Veterinarians discovered that she suffered from an irregular heartbeat, had pus where her umbilical cord had been detached and an abdominal infection. They speculated that she had been abandoned.
Under the care of the "elephant dads", both elephants have been able to thrive.
"The rescue work of Asian elephants still has a long way to go," Xiong said. "We are constantly learning and summarizing. We don't know what it will be like in the end, but we will do whatever we can, stick to our original intention and continue to move forward."