Egypt unveils 59 newly-discovered 2,500-year-old wooden coffins
2020-10-04 Xinhua Editor:Wang Fan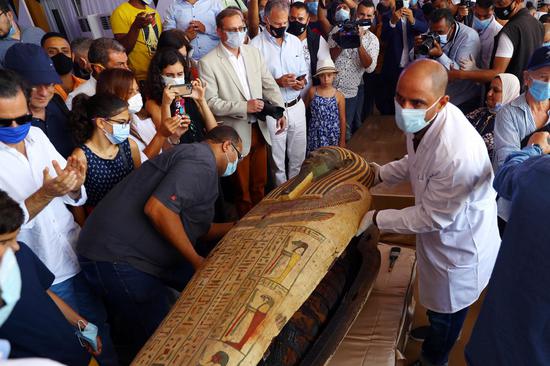 Staff members work near a newly discovered coffin on the site of the discovery in the Saqqara necropolis, Giza province, Egypt, on Oct. 3, 2020. (Xinhua/Ahmed Gomaa)
Egyptian Tourism and Antiquities Ministry on Saturday unveiled 59 newly-discovered well-preserved ancient coffins in Giza Province near the capital Cairo.
"It is a big discovery in the Saqqara necropolis, which is a world heritage site ... there are still tens of coffins in the site's burial shafts," Egyptian Tourism and Antiquities Minister Khaled al-Anany told Xinhua on the site of the discovery.
He added that the discovery is important because the colored coffins are all sealed and in a very good state of reservation.
"We have just opened two coffins now and found two intact mummies inside them," the minister said. "The coffins belong to priests and officials, and I can say that the site is very promising."
Meanwhile, Secretary General of Egypt's Supreme Council of Antiquities Mostafa Waziri, who headed the Egyptian mission that made the discovery, said the mission unveiled three burial shafts at different depths ranging from 10 to 12 meters, with 59 colored wooden coffins inside.
"The coffins were found stacked in two layers," Waziri said, adding that the coffins date back to the 26th Dynasty of the sixth century B.C.
"Dozens of statues, including a bronze statue of ancient Egyptian god Nefertum, were also found at the burial sites," Waziri said.
A number of archaeological discoveries have been made in the Saqqara necropolis in the past few years, in addition to the reopening of the Step Pyramid of Djoser, which is the oldest stone construction in history.
The recent discovery marks the largest number of coffins found in one burial place since the discovery of the Asasif Cachette, where 30 ancient coffins were discovered in October 2019 at the Asasif necropolis in Upper Egypt's Luxor Province.