Cannes finds opportunities in crisis with virtual film market and fest
2020-04-29 CGTN Editor:Gu Liping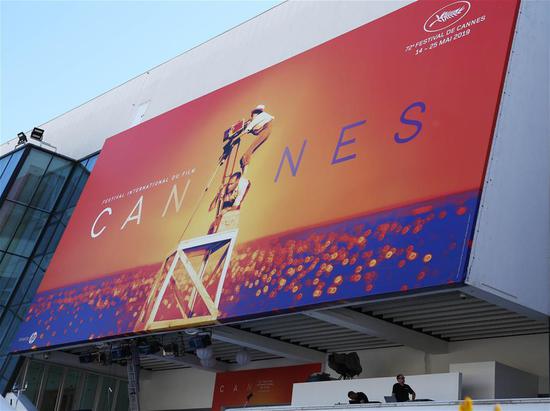 Workers make preparations for the 72nd edition of Cannes Film Festival in Cannes, France, on May 13, 2019. (FilePhoto / Xinhua)
The novel coronavirus pandemic has stalled cultural events worldwide, forcing the postponement or cancellation of a majority of spring programs, including the Cannes Film Festival, one of the best and well-known events in the world's movie calendar.
The grand cinematic celebration, which runs every May in the French coastal region Riviera, has already been put off until late June, according to its organizers' previous announcement. But this was no longer tenable after France on April 13 issued a ban on events with big crowds until mid-July.
The organizers also announced the cancellation of this year's Directors' Fortnight and Critics Week – the two sections running alongside the film festival, and said that they were exploring "all contingencies" to make "Cannes 2020 real, in one way or another."
Tie-ups of top film fests
The prospects of Cannes 2020 and other fall festivals are still uncertain and global top film festivals had to join hands to find opportunity in adversity.
In this setting, Cannes, along with its Venice, Toronto and Berlin counterparts, will participate in a 10-day virtual cinema program next month, New York's Tribeca Festival announced Monday.
YouTube is hosting a series of screenings for "We Are One: A Global Film Festival," which will start on May 29.
The digital program will feature programming from 20 top film fests, including feature films, shorts, documentaries and round tables, which are streaming free to movie fans across the globe.
Thierry Fremaux, director of Cannes Film Festival, revealed in a recent interview with Variety that they've been having discussions with other festivals about potential tie-ups.
"The cinema and its industries are threatened. We will have to rebuild, affirm again its importance with energy, unity, and solidarity," stressed Fremaux.
Full-on virtual movie market
Cannes is not only a venue for significant premieres and celebrity-filled red carpets, but also the home of one of the biggest movie markets, where hundreds of independently financed films try to find a distributor.
Though the 2020 edition of Cannes Film Festival now is in limbo due to the current coronavirus crisis, the organizers launched a virtual version of Cannes movie market – the Marché du Film – to "support the film industry and help professionals connect during this trying time."
According to the Marché du Film, the full-on virtual market aims to "facilitate business and networking for film industry professionals from all over the world."
Featuring screenings and video meetings, it will allow sales agents and potential buyers to watch new releases online, and bid on them over email and video chat applications.
The Marché's new virtual market, which has always run alongside the physical festival, will run from June 22 to 28 this year, based on its own digital tool Cinando and other platforms like Zoom.
Self-remedy actions led by agencies
Movie agencies and distributors have started self-remedy actions and are trying to keep business going in the face of the global pandemic crisis, which has brought the industry to its knees.
Various agencies, such as CAA Media Finance, Endeavor Content, ICM Partners and UTA Independent Film Group, released a joint statement recently, unveiling their plans for an online film market.
"The six-day market will be structured to offer global buyers access to screenings of finished films, early footage, and filmmaker presentations, sales meetings, and other essential elements of a film market," the statement read.
It also said that the CAA-led virtual market would coincide with the official Marché du Film, focusing on presentations around packaging of projects and promoting movies.
The agencies are teaming up with 30 companies, including sales agents and distributors, to "provide a uniform experience for buyers and sellers" on digital platforms.