Documentary 'Underwater China' reveals hidden side of ancient country
2020-01-17 Global Times Editor:Li Yan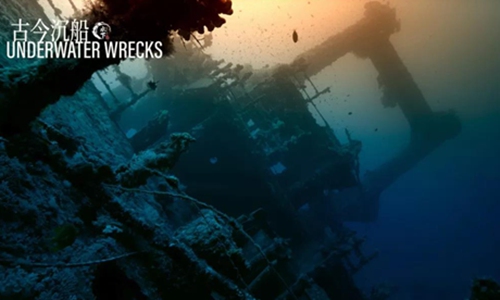 A sunken ship. (Photo/Courtesy of Dive the World)
Can you imagine that an ancient town and a 50-kilometer-long section of the Great Wall of China have silently stood underwater for dozens of years? Have you ever seen coral giving birth underwater?
A new documentary, Underwater China, reveals submerged caves, secret gardens and broken shipwrecks from several thousand years ago. Although this is a tranquil silent world, its wonders easily rival those of the world above water.
Some viewers have compared Underwater China, the world's first documentary revealing the underwater world of the ancient nation, with the Blue Planet series produced by BBC.
Zhou Fang, chief director of Underwater China, said that the show is rather different from BBC's work.
"We shot China's own underwater world to help viewers better understand people and the country through these underwater locations, rather than just passively look at them," Zhou said.