Wild sub-adult panda twins discovered in Sichuan
2019-12-18 Ecns.cn Editor:Mo Hong'e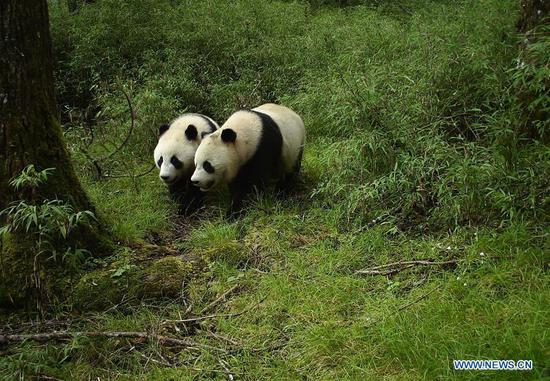 (ECNS) -- Images of a pair of wild sub-adult pandas captured by an infrared camera were released by Sichuan Wolong National Nature Reserve Administration on Tuesday.
The two wild pandas, about two years old and the same size, were playing under a tree at an altitude of 3,100 meters near a bamboo forest on Niutou Mountain.
Judging from the images, the pandas were likely born in the summer of 2017, said Wang Pengyan, a senior engineer at the Wolong Nature Reserve Administration.
Wild panda twins rarely survive as a pair.
It is the first time the nature reserve has captured images of wild sub-adult panda twins, indicating that the local environment is suitable for them.
Wolong will make more efforts to protect wild pandas and their habitats, said Wang.