Movie stars out in full force as China's top film festival kicks off in Xiamen
2019-11-20 CGTN Editor:Li Yan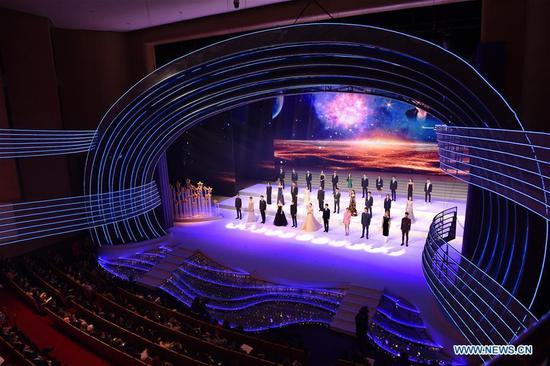 Representatives of actors actresses perform at the opening ceremony of the 28th China Golden Rooster and Hundred Flowers Film Festival held in Xiamen, southeast China's Fujian Province, Nov. 19, 2019. The film festival kicked off here Tuesday. (Xinhua/Jiang Kehong)
The coastal city of Xiamen, located in east China's Fujian Province, embraces a carnival of cinematic art as the Golden Rooster and Hundred Flowers Film Festival returns for its 28th year.
The opening ceremony was held Tuesday night at the Xiamen Banlam Grand Theater, with a dazzling constellation of Chinese movie stars and directors in attendance including globally famed actor Jackie Chan, filmmaker Zhang Yimou, celebrated actress Zhou Xun and up-and-coming actor Jackson Yee.
The festival, regarded as China's top film gala, has been held in 26 cities across the country since it was established in 1992 by combining the Golden Rooster Film Festival and the Hundred Flowers Film Festival, which began in 1981 and 1962 respectively.
Representatives of actors actresses perform at the opening ceremony of the 28th China Golden Rooster and Hundred Flowers Film Festival held in Xiamen, southeast China's Fujian Province, Nov. 19, 2019. The film festival kicked off here Tuesday. (Xinhua/Jiang Kehong)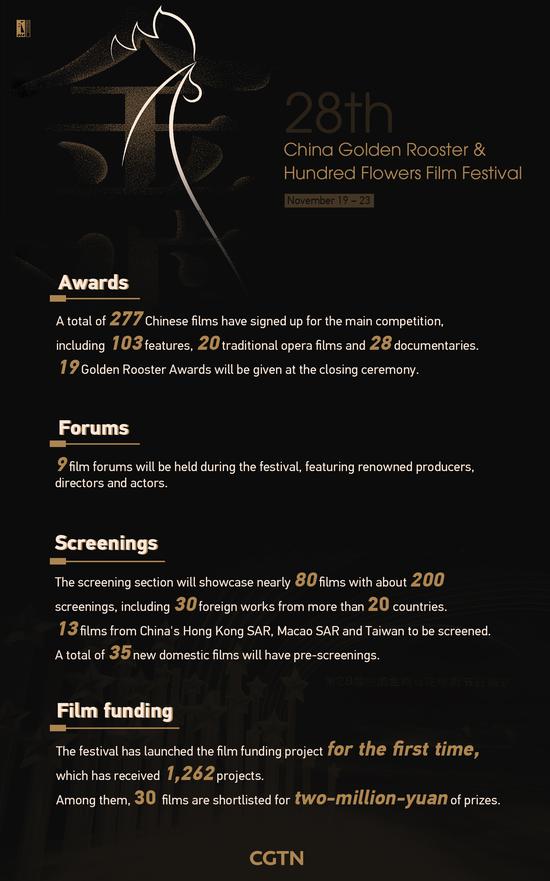 Since 2005, the Golden Rooster and Hundred Flowers Awards have been held in turn on alternate years. This year marks the 32nd edition of the Golden Rooster Awards.
In the following five odd numbered years, the Golden Rooster Awards will be presented in Xiamen. The coastal city has been chosen as a "permanent home" for the festival and will host it every other year for at least five editions – a first for the event.
This year's festival will run through to November 23. A grand closing ceremony will be held on Saturday night, unveiling the winners of 19 Golden Rooster Awards.
More than just a prize giving
The five day festival will feature several events and cultural activities besides the awards ceremony including film screenings, forums and seminars, as well as the opening and closing ceremonies.
A total of 277 Chinese films are signed up for the main competition, including 103 feature films, 20 traditional Chinese opera films and 28 documentaries, the organizer said at a press conference on Tuesday morning.
Six critically acclaimed films – "Dying to Survive," "The Wandering Earth," "So Long, My Son," "Us and Them," "Operation Red Sea" and "The Bugle from Gutian" – are vying for the Best Feature Award.
Connecting with film fans
In addition to the gleaming trophies, the festival also offers audiences opportunities to engage in cinematic events enjoy the charm of film.
The festival's screening section showcases nearly 80 films in approximately 200 screenings, including 30 foreign works from more than 20 countries.
A total of 35 new domestic films will be previewed. More than 10 will hold fan meeting activities after being shown, where viewers will have a chance to speak with actors, directors and screenwriters during question and answer sessions.
The highly anticipated movie "The Whistleblower," starring celebrated Chinese actress Tang Wei and actor Lei Jiayin, will make its premiere during the festival.
Learning from masters of Chinese cinema
This year's festival also incorporates nine film forums on different topics, featuring renowned actors, directors and producers such as Li Shaohong, head of the China Film Director's Guild, actor Xu Zheng and actress Zhou Dongyu.
Film pros will discuss the intricacies of film production and give their thoughts on innovations in filmmaking.
The opening forum, named "Depicting the Chinese Dream with Light and Shadow" was held on Tuesday afternoon, in celebration of the 70th anniversary of the founding of the People's Republic of China.
Frant Guo, director of box office behemoth "The Wandering Earth," attended the forum, during which he revealed that the film's sequel will start production in two years and is expected to be released in four years.
Also, a film funding project has been established for the first time "to discover good stories, produce good works and fund good films."
A total of 1,262 project pitches have been received and among them, 30 films are shortlisted for two million yuan of prizes, according to the organizer.