China's top performing arts center to present 'Beijing Cantata'
2019-10-10 16:24:53 Xinhua Gu Liping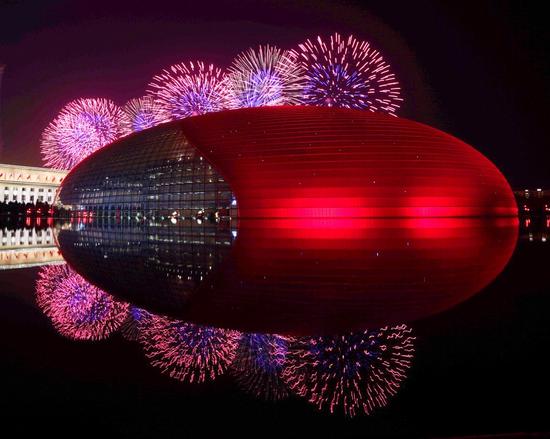 Fireworks light up the night sky above the National Center for the Performing Arts in Beijing, as the capital city holds a grand celebration to mark the 70th anniversary of the founding of the People's Republic of China on Oct 1, 2019. (Xinhua/Cai Yang)
China's prestigious National Center for the Performing Arts (NCPA) will present "Beijing Cantata," a symphony chorus dedicated to the history and cultural essence of Beijing, at a concert featuring newly commissioned works from the NCPA that is set for Friday, Oct. 11.
Jointly created by renowned writer Zou Jingzhi and composers Meng Weidong and Tang Jianping, the seven-part work was commissioned as a gift to celebrate the 70th anniversary of the founding of the People's Republic of China, according to the NCPA.
The cantata combines various art forms including recital, solo and ensemble performances. Traditional cultural elements like Peking opera and folk art are also perfectly integrated, the NCPA said in a statement.
Conducted by Yang Yang, who won the first place for his performance at the Dimitris Mitropoulos International Competition for orchestral conducting in Greece, the concert will also see the premiere of a four-piece symphony, part of the NCPA Young Composers Project between 2018 and 2019.