Book fair in Xiamen emphasizes need for cross-Straits unity
2019-09-23 10:32:14 China Daily Cheng Zizhuo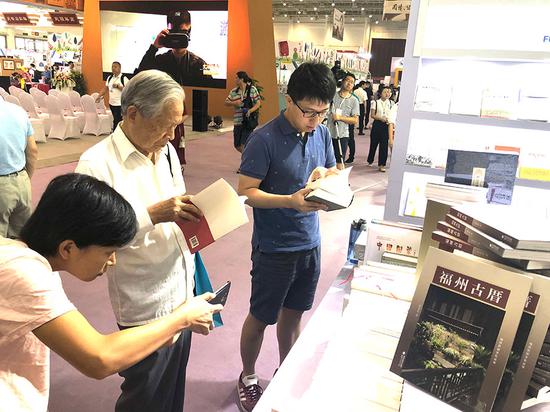 Readers attend the 15th Cross-Strait Book Fair in Xiamen, Fujian province, on Friday. (China Daily/Hu Meidong)
"China is moving to become a publishing power in the world, which provides a good opportunity for the development of the publishing industry on both sides of the Straits," said Wu Shulin, executive vice-president of the Publishers Association of China, on Friday.
He made the remarks during the 15th Cross-Strait Book Fair at the Xiamen International Convention and Exhibition Center in Xiamen, Fujian province, which ended on Sunday.
The three-day book fair attracted 520 publishing organizations from both sides of the Taiwan Straits to participate. Three hundred were from the Chinese mainland and 220 from Taiwan. Twenty-six publishing houses from both sides signed cooperation agreements at the opening ceremony of the fair, with an intended investment of nearly 600 million yuan ($84.6 million) in total.
About 700,000 books were featured during the fair, most of which are new, high-quality works and bestsellers published in the past two years.
Chen Lihua, deputy head of the publicity department of the Communist Party of China's Fujian provincial committee, said during the opening ceremony that no matter how many disturbances and obstacles there are, the exchanges between both sides of the Taiwan Straits cannot be stopped. Both sides should jointly carry forward the fine traditions of Chinese culture and promote its creative transformation and development.
Li Yongqiang, president of China Renmin University Press, said practices have been introduced to promote cooperation between Chinese and foreign publishing houses through new media and channels, in addition to book events.
He said the press has been committed to the cooperation, exchange and integration of publishing peers across the Taiwan Straits, as well as the promotion of the Chinese civilization.
Li pointed out, "while strengthening the copyright trade, we have also taken advantage of international publishing over the years to build an international platform to bridge the gap between China and the world."
Chao Cheng-ming, chairman and general manager of the Taiwan Times Publishing Co and director of the Taipei Book Fair Foundation, said there is still a lot of room for cross-Straits book exchanges.
He said that the number of novels imported to Taiwan from the Chinese mainland has increased by at least 10 percent in recent years, especially those related to history and lifestyle. But the number of books imported to the mainland from Taiwan has been declining in recent years. Zhao suggested the book approval procedures be simplified and accelerated to facilitate cross-Straits publishing exchanges.
In recent years, cross-Straits book copyright exchanges have been active, with transactions of more than 2,500 copyright items taking place annually. According to official statistics, last year, the Chinese mainland introduced 798 publication copyrights from Taiwan and exported 1,449 from the mainland to Taiwan, which has enriched the minds of readers on both sides of the Taiwan Straits and promoted the common development of the publishing industry on both sides.