New series set to explore nation's cultural treasures
2019-09-20 08:48:08 China Daily Cheng Zizhuo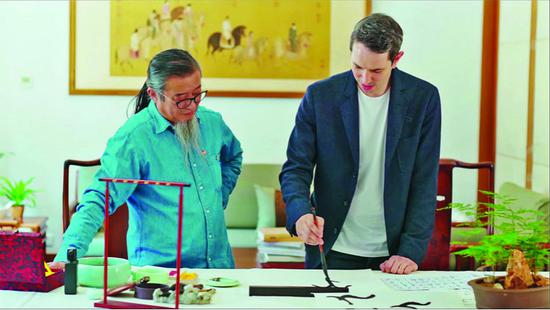 Art critic Alastair Sooke on China's Greatest Treasures. (Photo/Chinadaily)
A new six-episode series exploring the history behind some of the most treasured Chinese artifacts, traditions and their connection to modern China was launched at a showcasing event in London on Wednesday.
The documentary series, China's Greatest Treasures, is a joint China-UK production between China's CCTV Documentary International Media Co Ltd and UK company Mustang Films, and the series will be shown on BBC World News in October.
China's Greatest Treasures follows British art critic Alastair Sooke as he travels through modern China accessing some of the country's most prestigious museums and exploring precious objects as each episode looks into themes such as family, food, and technology.
"Hands down this is the most exciting project I've worked on for the BBC, and I was lucky enough to spend the best part of three months earlier this year traveling around China in three different extraordinary filming blocks," Sooke said. "We visited eight cities, we had a privilege behind-the-scenes access to some of China's famous museums and not only that but we got to meet a lot of people outside museums. I spent a night up Mount Hua, one of the sacred Taoist peaks in China, which I'll remember for the rest of my life."
Viewers will be taken on a journey of Chinese art and culture, from a rare painting considered so delicate that it can only be viewed for 30 minutes at Liaoning Provincial Museum to a 3,000-year-old ceremonial bronze cauldron in Shanghai, and, at the Zhejiang Provincial Museum, an elaborate Wangong sedan chair that took 10,000 hours to create.
Speaking at the showcase, Liu Xiaoming, China's ambassador to the UK, said while the show introduces Chinese culture and history, it also tells the story of the Chinese nation and promotes exchanges between civilizations.
"The history of the Chinese nation is like a book that tells stories of a magnificent scale and profound meaning," Liu said, adding that the documentary offers a "glimpse into the life, joy, sorrow and relentless efforts of the Chinese people through thousands of years.
"It also demonstrates how the Chinese art excels at being inclusive and drawing on others' successful experience. Viewers could begin to understand why and how the time-honored history is having a profound impact on today's China and China in the future," he said.