Chinese high school student missing for more than 40 days
2022-11-24 Ecns.cn Editor:Zhang Dongfang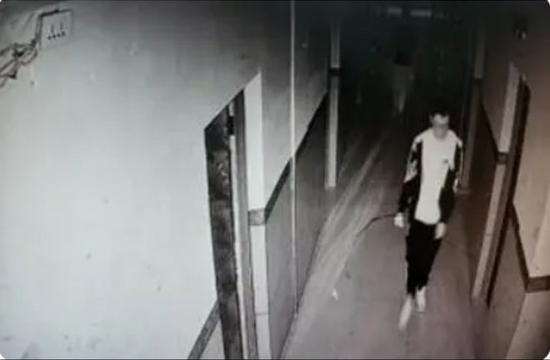 Surveillance video footage shows Hu Xinyu was last seen in the school's dormitory building at 5:48 p.m., Oct. 14. (Screenshot photo)
(ECNS) -- Hu Xinyu, a 15-year-old student at Zhiyuan Senior High School in Qianshan County, Jiangxi Province, has been missing since Oct. 14.
Video surveillance shows that Hu was last seen in the school's dormitory building at 5:48 p.m. on Oct. 14. His parents found he left his ID card, cash, and watch phone in the dormitory but carried a digital voice recorder and his school card.
Usually, night classes begin at 6:05 p.m., so he was supposed to go to class after leaving the dormitory. But there is a more than 10-meter surveillance blind spot on the road from his dormitory to the classroom.
A student's parent told reporters that the spot the boy went missing is a small hillside with dense vegetation, pavilions, stone benches, and stone tables. It is also a quiet study corner for students.
Surveillance video shows that 13 vehicles entered and exited the school on the night Hu lost contact. Police checked them one by one but found nothing unusual.
Local police and several rescue teams have deployed police dogs, drones, a 3D search and thermal imaging. They have also searched all locations where he might have gone.
According to Hu's parents, the surveillance video from Oct. 14 and earlier at Hu's school were deleted by someone.
The investigation is still underway.